Unique Ramadan Chocolate Flavors to Try This Year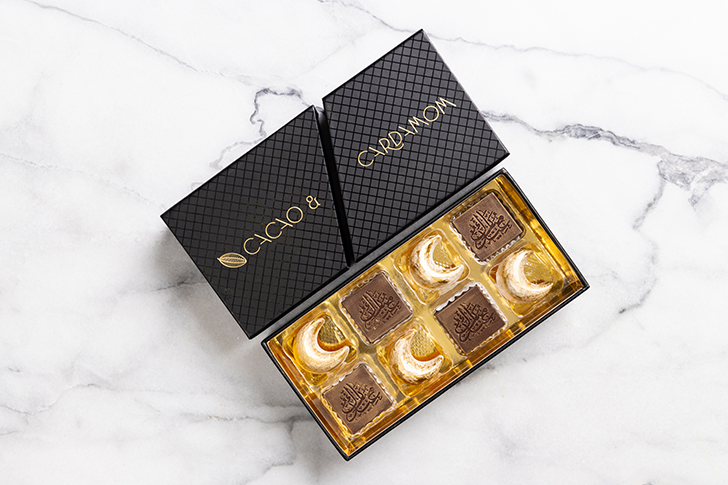 Indulge in the Exotic Flavors of Ramadan Chocolate Gifts
As Ramadan approaches, it's time to indulge in the festivities and celebrate the holy month with your friends and family. What better way to do so than by sharing unique and delicious chocolates from Cacao and Cardamom? Our exclusive range of Ramadan chocolate gifts is the perfect way to immerse yourself in the rich and exotic flavors of the season.
Ramadan Chocolate Gift Box
Our Ramadan Chocolate Gift Box is a specially curated collection of chocolates that are perfect for sharing with loved ones during this special time of year. The box includes four delectable flavors, each designed to tantalize your taste buds.
One of our most popular flavors is Pistachio Halwa, which features a rich and creamy pistachio praline layered with a smooth tahini gianduja. Another favorite is our Rose Water Caramel, which is a buttery and floral caramel with hints of rose water. For those who appreciate a bit of crunch, our Honey Nut Crunch includes a hazelnut praline generously laced with crunch feuilletine and wildflower honey reduction. And finally, our Turkish Coffee is a deliciously dark chocolate ganache infused with Turkish coffee and finished with freshly ground cardamom.
Ramadan Dates Gift Box
For those who prefer a sweeter taste, our Ramadan Dates Gift Box is the perfect choice. Filled with four delicious chocolate medallions topped with slivered almonds, oranges, figs, and ginger, this collection offers a unique combination of flavors that will satisfy any sweet tooth. The box also features four chocolate-covered dates filled with toasted pistachios, perfect for sharing with loved ones during Iftar.
Eid Mubarak Chocolate Gifts
At Cacao and Cardamom, we also offer a range of Eid Mubarak Chocolate Gifts to commemorate the end of Ramadan. Our Eid Mubarak 8-piece chocolate box includes two of our most popular flavors from Ramadan. The crescent moon is a delightful combination of pistachio praline, pistachio nibs, and white chocolate tahini gianduja, while the Eid Mubarak Chocolate is a medjool date ganache with a triple nut praline.
Three-tier Dozen
If you're looking for the ultimate indulgence this Ramadan, our Three-tier Dozen is the perfect choice. This impressive three-layer chocolate box includes twelve pieces of some of the most decadent chocolates, inspired by flavors from around the world. The flavors may change depending on the availability and freshness, but you can be sure that they will be just as delicious as ever.
So, what are you waiting for? Indulge in the exotic flavors of Ramadan with
Cacao and Cardamom
. Visit our website today to explore our range of Ramadan chocolate gifts and more!
Share this