Celebrate Ramadan with the Best Chocolate Treats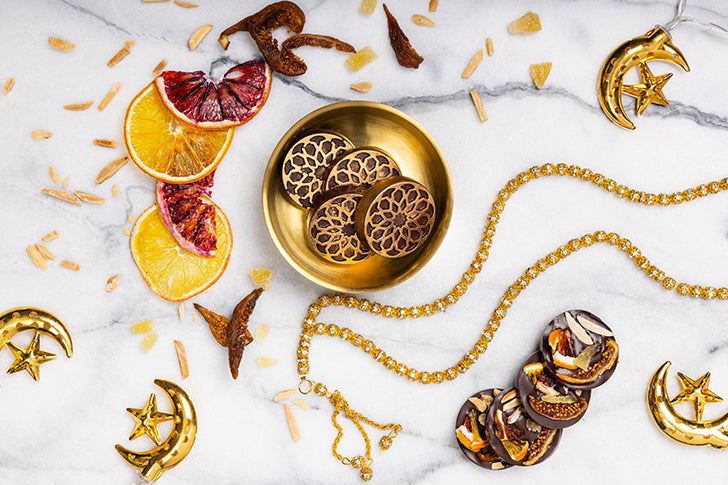 Celebrate Ramadan with the Best Artisan Chocolate Treats - Ramadan Kareem- Indulge in the Best Artisan Chocolate
The holy month of Ramadan is a time of reflection, prayers, and family gatherings. It is also a time to indulge in delicious treats and sweets that are specially made for this occasion. At Cacao and Cardamom, we understand the importance of this celebration and have created the perfect range of artisan chocolates to share with your loved ones. From personalized gift boxes to dark chocolate coins, we have something for everyone.
The Perfect Ramadan Gift- Our Exclusive Ramadan Artisan Chocolate Box
No celebration is complete without a gift, and our exclusive Ramadan artisan chocolate box is perfect to share with your family, friends, and loved ones. This delectable gift box includes an assortment of 8 bon-bons with flavors like honey crunch, rose water caramel, Turkish coffee, and pistachio halva. Along with a set of 4 chocolate medallions with toasted almonds, figs, ginger, and orange, and 4 chocolate covered dates filled with toasted pistachios. This exquisite chocolate box is the perfect way to celebrate Ramadan and will definitely add a touch of sweetness to your festivities.
Dark Chocolate Medallions- A Must-Try this Ramadan
If you enjoy the richness of dark chocolate, then our dark chocolate medallions are a must-try this Ramadan. These coins are topped with slivered almonds, oranges, figs, and ginger, making them a perfect combination of sweet and savory. These dark chocolate medallions are perfect to share with your family and friends while breaking the fast, or as a sweet treat after your meals.
Personalized Ramadan Chocolate- Make Ramadan Even More Special
Make Ramadan even more special with our personalized Ramadan chocolate gifts. Choose from our selection of flavors, including milk chocolate, dark chocolate, and white chocolate, and add your personalized message to the wrapper. Our personalized chocolates are perfect to share with your loved ones on special occasions like Iftar, Eid al-Fitr, and Eid al-Adha.
Visit Cacao and Cardamom for the Best Ramadan Chocolates
In conclusion, Cacao and Cardamom's exclusive range of artisan chocolates is perfect to share with your loved ones this Ramadan. Whether you're looking for a delicious gift or a sweet treat for yourself, we have everything you need to indulge in the delectable flavors of this season. Visit
Cacao and Cardamom
today to discover our full range of Ramadan chocolates and elevate your celebrations to the next level.
Share this