The Unique Gifts for Chocolate Lovers in Christmas | Luxury Chocolate Online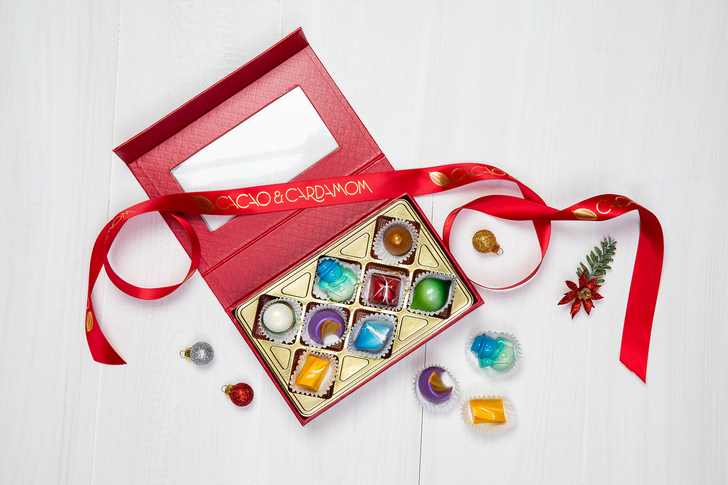 Christmas is a great opportunity to show how much you care with holiday chocolate boxes for employees. With corporate chocolate gift boxes becoming ever more popular and people who love dark chocolate looking for a unique gift, there are plenty of options available. From special dark chocolate sets to dragees and even chocolate snacking bars, it's easy to find something that will satisfy their cravings. Not only do luxury chocolate gifts  provide a sweet indulgence for the recipient, but they're also sure to put a smile on everyone's face this holiday season—while providing lasting memories of the warmth and happiness associated with the season.
Nutcracker, 5 Piece - 
The perfect luxury chocolate gift awaits in this five-piece Nutcracker. Each piece blends the finest ingredients to create a delicious, flavorful experience. Start with Peppermint Oreo, a decadent combination of white chocolate ganache and organic peppermint leaves, followed by Turron, which is crafted with roast honey glazed almonds and dark chocolate honey ganache. Advocaat is an Opalys ganache made with housemade advocaat, vanilla, and nutmeg while Makowki combines crunchy Poppy Seed Oreillys Ganache with walnut crunch. To finish it off Gluhwein offers a unique Dark Chocolate Ganache blended of red wine, cinnamon, cloves and oranges. With every bite you get a taste of luxury unlike any other!
Dark Chocolate Lover's Gift Basket -
Delight your loved one with luxury and opulence in the form of a Dark Chocolate Lover's Gift Basket. This sizable array of gourmet treats is sure to satisfy a serious dark chocolate enthusiast; each item has been carefully crafted to encompass the highest quality, richest cocoa flavor profiles available on the market. Lovingly presented, this gift set contains sixteen pieces, including dark chocolate almond clusters, Venezuela Mendiants, Dark Chocolate & Orange Artisan Bars, and Coffee & Cardamom Artisan Bars. Finally, top it all off with a luxury hazelnut spread - perfect for indulgent snacking or adding deliciously sweet accents to other dishes.
Red 8 Piece Holiday Sampler - 
Spread holiday cheer with this artisanal Red Chocolate Box packed with 8 Holiday-inspired Chocolate Bon-bons. This unique collection is crafted to capture the flavors of Christmas from all over the world, such as Cranberry Rosemary, Peppermint Oreo, Bunuelo, Turron, Cherry Cordial, Advocaat, Makowki, Gluhwein, Mont Blanc and Lebkuchen. Enjoy the exquisite taste of these artisan chocolate bonbons for a truly delightful festive celebration!
Cacao and Cardamom chocolates come packaged in beautiful boxes that make them perfect for gifting. You can choose from a variety of flavors, including classic favorites like dark chocolate and milk chocolate, or try something new like our cardamom-infused chocolates.
Order your luxury chocolates today and experience the difference they make!
Share this