Indulge Yourself in Something Distinctive and Give a Delightful Christmas Chocolate Gift to Your Significant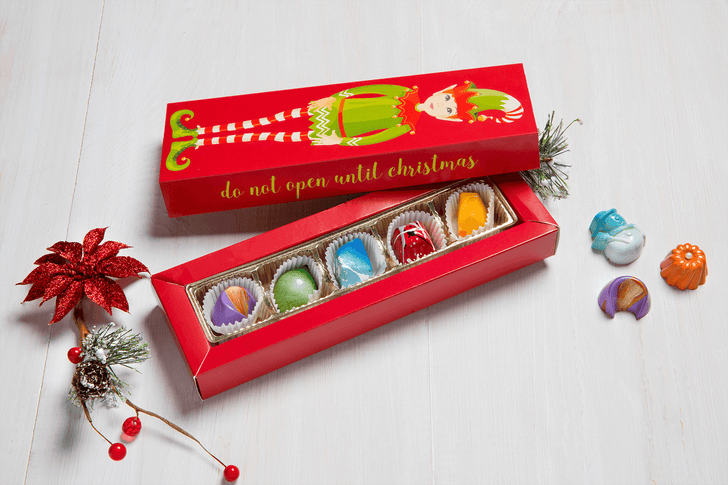 Whether you're out for tasteful truffles, an array of chocolate-covered fruits, or some premium handcrafted delicacies, nothing could make the Holiday season more exciting than chocolate gifts delivered for Christmas, making the day all the more special with a heartfelt gesture. Christmas chocolate boxes are certainly going to be a delight for chocolate lovers you have put on your Christmas list. Cacao & Cardamom is best known for handcrafted presents like gourmet chocolates, gift box assortments, and fancy Christmas chocolates and fruit offerings.
For these holidays, a collection of Christmas chocolates boxes covers a wide range of surprises to put under the Christmas tree or to send to a loved one far away. Our gourmet chocolates are made by hand in our specialty kitchen using the most exquisite ingredients and our fashionable blend of creamy milk chocolate and spicy dark chocolate. The holiday season is never complete without a Christmas chocolate box filled with delectable truffles. Our Christmas chocolates boxes come in a mixture of flavors, including premium dark chocolate, creamy milk, and white chocolate variations, all of which are packaged in elegant holiday chocolate gift cases. Indulge yourself in something distinctive or give a delightful Christmas chocolate gift this to your significant other this holiday season.
Our signature Christmas chocolates are renowned for silky-smooth texture, and each of these once-a-year holiday chocolates is crafted with refreshing seasonal flavors particularly for the holidays. Keep Christmas gourmet chocolates and truffles at hand for all your end of the year celebrations, to share with friends and family, or even as a special treat just for yourself. With Cacao & Cardamom chocolate gifts, you'll sure to make this holiday season even more special. We have your chocolate gifts delivered for Christmas, so you can stay home and be safe, while still showing your love and appreciation for one another.
Share this