Who said you can't buy happiness? You can book yourself a box full of confections and that's kind of same thing, isn't it?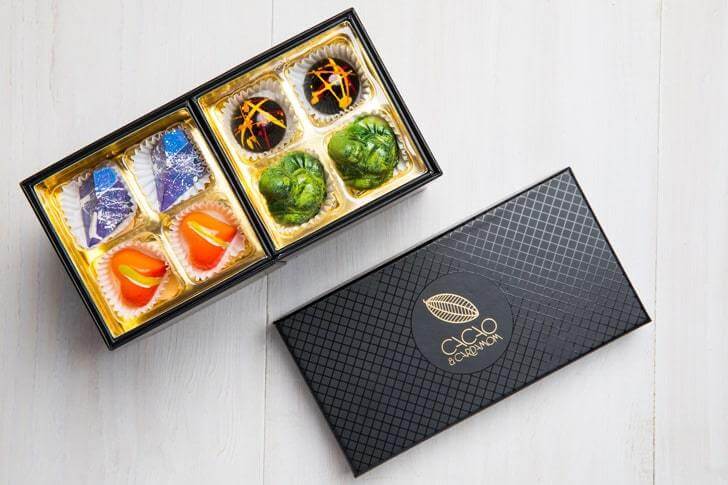 If your special someone is a chocolate lover and you are planning to make their day special by filling it with supplies of artisan-made gourmet chocolate gift boxes you came to the right place. We offer a wide range of confiture, from classic bon bon and truffles to personalized candies and yummy delights. Chocolate lovers will melt for these beautifully fabricated personalized gourmet chocolate gifts that are finely crafted according to their preferences. This library of extravagant gift baskets won't disappoint you or your significant other. This gift box not only offers an extensive selection in flavours like our classic signature savour Strawberry Szechuan, Garam Masala Pistachio, Lavender and many more personalized with tinge of your essence but also presents a comprehensive selection of packaging.

Have you have thought of serving chocolates as a showstopper of your party? Think about it. Specially if it's a toddlers birthday party! Anything you plate up in a celebration as long as it has a touch of chocolate in it, faces of your guests will definitely glow up. Chocolates are notorious of pleasing all age groups.

This place is a one stop shop for all committed chocoholics so if you are looking for some skillful handmade unique flavours like Chai spice, CoCo Curry, mango caramel and many more such imaginative flavours for your friend believe us these confections will delight your sweet-tooth friend beyond words can ever express. So hurry up! Book the best chocolate for birthday gift for your special someone and fill their day with creamy delights.If you were waiting for a festival to order a box of these gourmet chocolates then now's the time!

We all deserve to include some sweetness in our lives and to do so check our Birthday Chocolates for more details.
Share this