With Corporate Holiday Chocolate Boxes Express The Warm Wishes To Your Clients And Employees For The Holidays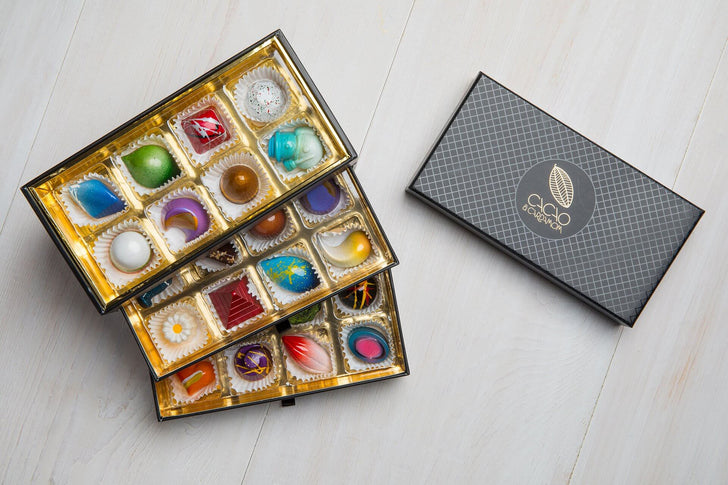 The first thing with chocolates that comes to our mind for holiday business chocolate gift baskets is the quality and uniqueness of the wholesome hamper and gifting corporate holiday chocolate boxes with gourmet chocolates is the best way to express the warm wished for the holidays. Unique corporate chocolate gift baskets are hard to come by in today's mass-produced world and finding the best quality and tasteful gift baskets for corporate holiday chocolate boxes can be tricky for your clients and businesses.

Gourmet chocolate gift baskets are the best corporate gifting options this holiday season. They are economical, pre, and tastefully presented, and has something for everyone in the family, and you don't need to worry about each are every family member. And gifting gourmet chocolates is being the rage these days, as it adds to the charm of closeness and how much you care and know a person's culture and background.

Gifting unique corporate chocolate gift baskets can be a tricky task for most new to the corporate and business gifting scenario. With Cacao and Cardamom's gourmet artisanal chocolates, you cannot go wrong with their gourmet chocolates and will have a lasting impression.

Their unique gourmet flavors are the perfect blend of Asian inspired spices and fruits. Their craftsmanship reflects in their signature chocolates like Strawberry Szechuan, Garam Masala Pistachio, Lavender, Black Sesame Ginger Pineapple Fennel Caramel many more.

Their dark chocolate corporate gift basket is the best option for corporate gifting for chocoholics without thinking much.

Cacao and Cardamom also have chocolate logo customization options for custom names and logos on our gourmet chocolates. Can't reach where the magic happens? Cacao and Cardamoms' online store features all their signature flavors, classic chocolate comforts, and other sweet confections with their customization option. You can order your chocolates and get them delivered to any doorstep across the USA.
Share this