Your New Year's chocolate gifts are made more unique by adding a personal touch.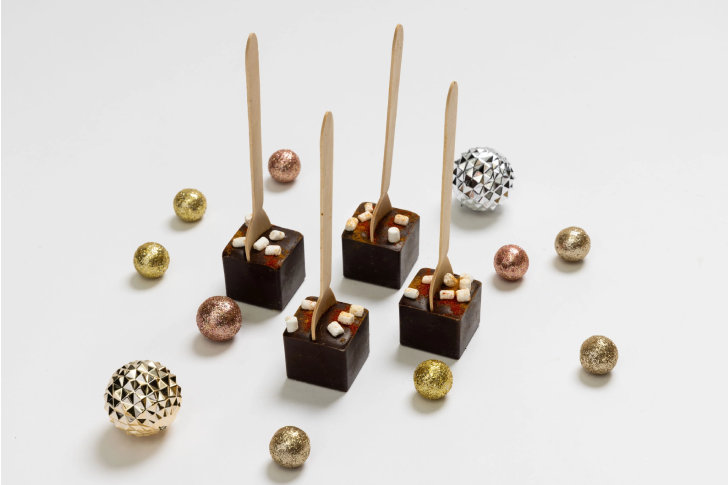 Making custom chocolate gifts for your loved ones is a great way to make the New Year even more special. Whether you are sending unique chocolate gifts to friends and colleagues, there's an endless range of custom options that can be tailored for any recipient. Start by selecting a custom mold, packaging style, and type of chocolate that suits the style of the person you're gifting - from plain Belgian white chocolates to rich dark truffles sprinkled with gold dust, to vegan-friendly treats. Add personalized messages or images printed directly on the chocolates, choose custom wrapping and ribbon options, and even curate gift collections tailored to each recipient – because nothing will make someone feel more special than custom chocolate gifts made just for them.
Personalizing chocolates as a gift for special occasions such as New Year's can be an excellent way of expressing appreciation and celebrating moments. Personalized chocolate bars for birthdays and New Year's have become a popular option that adds a festive, thoughtful touch to corporate or other special gifts. Personalization makes them even more delicious and memorable, making it a wonderful present and a delightful way to connect with colleagues, business partners, or friends. Not only are these customized chocolates sure to make the recipient smile, but they also offer a truly remarkable way of showing gratitude.
Spicy Mayan Hot Chocolate Stick -
Just imagine: a delicious, gourmet-style hot chocolate beverage made from the comfort of your home! The Spicy Mayan Hot Chocolate Stick is the ideal solution; you simply insert it in hot milk, water, or coffee and stir. This delectable treat features premium dark chocolate infused with Chipotle, Ancho, Guajillo, and cinnamon to create a rich flavor experience unlike any other. All this goodness comes in a neat package - just 2 ounces served on a wooden spoon for easy use. Enhance your daily cup of cocoa today with our Spicy Mayan Hot Chocolate Stick!
Our artisan chocolates from Cacao and Cardamom offer a sweet and special experience for the New Year. Delight in hand-crafted pieces made with the finest ingredients, while adding a personal touch with your customized print or logo. You can buy these gourmet chocolates online and make them an even more unique gift for friends and family. Surprise loved ones this New Year's with our specially crafted chocolate ships, boxes, towers and bouquets. Share something special by creating lasting memories with a heartfelt gesture of thoughtful artistry that comes only from artisanal chocolate.
Share this