A Sweet Token of Appreciation: Dark Chocolate Gifts for Employees and Clients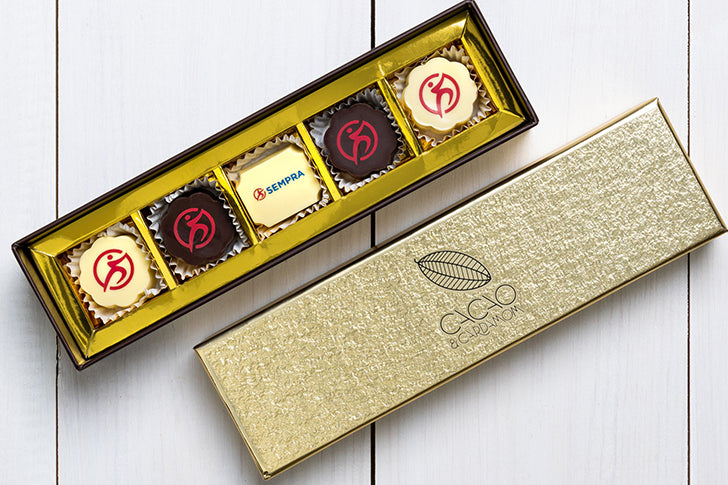 A Sweet Token of Appreciation: Dark Chocolate Gifts for Employees and Clients
In the corporate world, expressing appreciation is a crucial aspect of building long-lasting relationships with employees and clients. While traditional gifts like flowers or wine are often given, dark chocolate gifts have proven to be a sweet and sophisticated option that appeals to a wide audience. In this blog, we'll explore the allure of dark chocolate gifts, choosing the perfect gift, unique gifting ideas, packaging and presentation, and tips for ordering and delivery.
The Allure of Dark Chocolate Gifts
Beyond its delicious taste, dark chocolate has become a symbol of sophistication and luxury, making it an appropriate and timeless gift for any corporate occasion. Additionally, dark chocolate is known for its health benefits, such as being a source of antioxidants and having the ability to promote heart health. These characteristics make it an ideal choice for those who want to give a thoughtful gift that also positively contributes to their recipient's wellbeing.
Choosing the Perfect Dark Chocolate Gift
Selecting the perfect dark chocolate gift first requires consideration of dietary restrictions and preferences. Opting for gluten-free chocolates or chocolates that cater to specific dietary needs, like vegan or low sugar, will show thoughtfulness and consideration. Additionally, choosing artisanal dark chocolate over commercially produced items, like those found in supermarkets, adds a touch of elegance and individuality to the gift. Personalization and customization options, such as corporate chocolate logo gifts, can make the gift even more special.
Dark Chocolate Gifts for Employees
Dark chocolate gifts for employees can help boost morale and show them that their hard work is appreciated. Whether recognizing outstanding performance, celebrating work anniversaries, or acknowledging milestones, customized and personalized chocolate gifts can go a long way in inspiring and encouraging a positive work environment.
Dark Chocolate Gifts for Clients
Dark chocolate gifts for clients can be a thoughtful way to strengthen and nurture client relationships, showcasing gratitude for their loyalty and trust. Utilizing dark chocolate gifts as a marketing tool can not only add an enjoyable touch but also leave a lasting impression that can ultimately lead to long-lasting business relationships.
Unique Dark Chocolate Gift Ideas
There are plenty of options to get creative with dark chocolate gifts. Creating custom dark chocolate gift baskets, pairing dark chocolate with other complementary items, or incorporating branded elements can make great gifts for clients or employees alike. Build your own chocolate box ideas, as well as holiday chocolates and chocolate-themed gifts, are other excellent concepts to consider.
Packaging and Presentation
The presentation is just as important as the gift itself. Attractive and presentable packaging can make the difference between a gift that feels meaningful and one that feels ordinary. Adding a personal touch to the presentation, such as a small jewelry box or personalized ribbon, can also elevate the gift and make it stand out from the competition.
Tips for Ordering and Delivery
When ordering, it's essential to plan ahead for special occasions and events. Considering bulk orders for cost-effectiveness and selecting reliable shipping methods for a timely delivery are other recommendations to keep in mind. Cacao and Cardamom are a premium chocolatier that has expanded their services to include gourmet chocolate delivery in the USA, creating an easy, stress-free way to order and deliver quality chocolate gifts.
Dark chocolate gifts make a sweet token of appreciation and are a thoughtful way of expressing gratitude to employees and clients. With the best US chocolate brands, such as Cacao and Cardamom, available for online shopping, it's easy to create unique and personalized chocolate gifts that will make a lasting impression. Discover handcrafted artisan chocolates online and explore the top 10 chocolate brands in the USA, finding the perfect option for corporate chocolate logo gifts, boxed chocolate gifts, and chocolate gift baskets, or building your own chocolate box. Make a statement with dark chocolate gifts, showcasing gratitude and appreciation in a sophisticated and delicious way! 
Visit Cacao and Cardamom for the best gourmet chocolate delivery USA has to offer. Explore artisan chocolates online, top US chocolate companies, and small-batch chocolate collections available for same-day delivery in Manhattan. Shop now and send a sweet token of appreciation to those who deserve it!
Share this