5 benefits of personalization in corporate chocolate gifts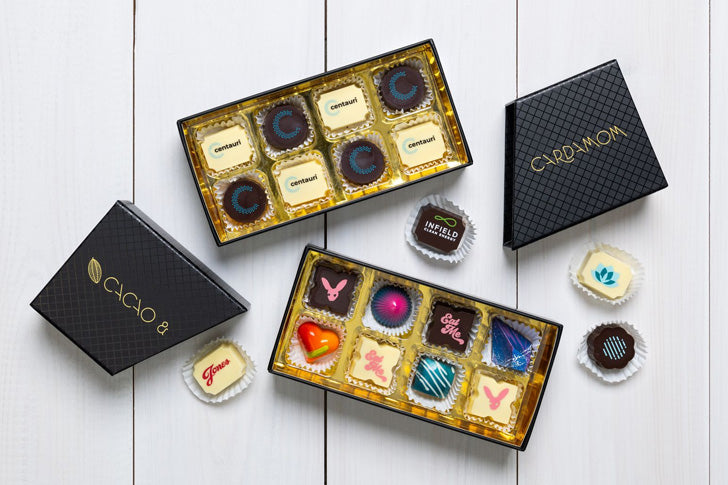 Personalization is key when it comes to corporate chocolate gifts. The recipient should feel special and appreciated, and the gift should reflect the thoughtfulness of the sender. Here are five benefits of personalizing corporate chocolate gifts:
Personalized gifts are more memorable. A thoughtful message or company logo will help the recipient remember your brand long after the chocolate has been eaten.
Personalized gifts show that you care about your clients and employees. A generic gift says, "We appreciate your business." A personalized gift says, "We value you as an individual and are grateful for your contributions."
Personalized gifts are unique and stylish. A boring box of chocolates is quickly forgotten. A beautifully packaged box with a personal message is something that will be displayed proudly on a desk or shelf.
Personalized gifts create a bond between sender and recipient. A shared love of chocolate is a great way to build rapport and strengthen relationships.
Personalized gifts are simply more enjoyable to receive! Who doesn't love feeling like they're the only person in the world who matters?
When it comes to corporate chocolate gifts, personalization is key. It's the difference between a gift that's quickly forgotten and one that's cherished for years to come.
Customized chocolate gifts show that you care about the individual recipient
Holiday chocolate gift boxes from a specialized Belgian chocolatier are an excellent way to show someone you care about them this holiday season. These unique gifts are customized to the individual recipient, making each box truly one-of-a-kind. holiday chocolate gift boxes contain only the finest Belgium chocolate, dark chocolates, as per your requirements ensuring that your loved one gets the best holiday treat possible. What's more, these special gifts can even be made vegan, so everyone can enjoy the holiday spirit. Order your holiday chocolate gift box today from Cacao & Cardamom and let your loved ones know how much you care.
They can be used to celebrate any occasion, from employee birthdays to company milestones
Chocolates make a perfect gifting option for any celebration. Be it an employee birthday or company milestone, chocolates are always appreciated. There are a variety of vegan chocolate candy, bar, dragees, and mediants options available these days. You can go for nuts with dark chocolate or hand made chocolates. It is important to choose a good quality chocolate so that the receiver can enjoy the taste and texture of the chocolate. When opting for vegan chocolate bars, make sure to check the ingredients list to ensure that it does not contain any dairy products
Share this