Celebrate the Spirit of Ramadan with Delicious Chocolate Gifts | Cacao & Cardamom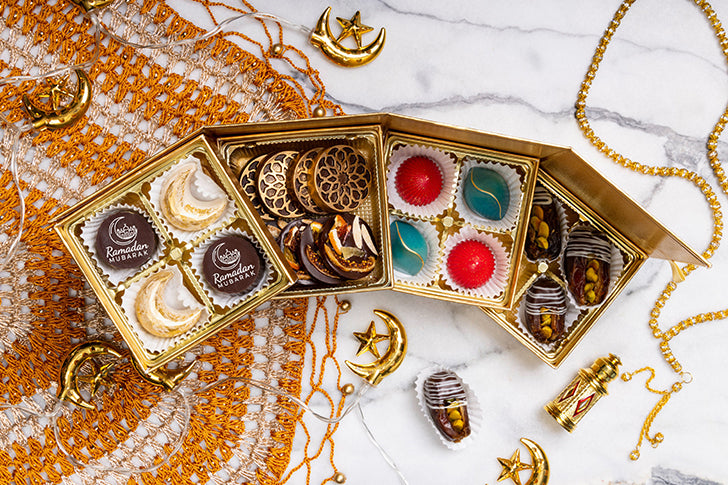 Sweeten Up Your Ramadan with Delectable Chocolate Gifts
The holy month of Ramadan has arrived, bringing with it its special traditions and an opportunity for reflection and connection. For many, celebrating the spirit of Ramadan means giving thoughtful ramadan chocolate gifts to friends and family members – a way to celebrate the joyous occasion and express your love for them. Whether you're looking for a gift that is sure to delight or one that brings added significance to the holiday, chocolate makes an excellent choice. From luxurious milk chocolates to rich dark chocolate treats, there are plenty of ways to make this Ramadan extra special by adding sweetness into your celebration. 
Step up Your Gift Giving This Ramadan with Delicious Chocolate
At Cacao & Cardamom, we offer a variety of exquisite chocolates perfect for gifting during the holy month. Our selection includes Step up Your Gift Giving This Ramadan with Delicious Chocolate, Make the Most of Ramadan with Holiday-Themed Chocolate Gifts, Put Together Home-Made Desserts for Ramadan Events with Nutritious Dark Chocolate, Enjoy the Sweetness of Eid ul-Fitr with Exquisite Milk Chocolate Creations, Indulge in Rich and Creamy White Chocolates as a Treat During Ramadan, and Satisfy Your Sweet Tooth All Through Ramadan with Gourmet Chocolates. Whether you're looking for something special just for yourself or putting together a gift basket full of delicious treats, our wide range of options ensures you can find something perfect that fits both your tastes and budget. 
Our carefully crafted chocolate gifts include options like ramadan chocolate gift baskets filled with all manner of delightful treats like truffles infused with rosewater or pistachio cardamom pralines - ideal for treating yourself or someone else you love! We also offer luxury ramadan chocolates gifts such as individually wrapped dates filled with creamy caramelized cashew nut spread or unique combinations like creamy coconut truffles sprinkled in desiccated coconut flakes – these make meaningful presents sure to be appreciated by any recipient! 
Indulge in Rich and Creamy White Chocolates as a Treat During Ramadan
Ramadan is a time of the year when we remember to focus on our inner selves and get closer to God. This year, why not take the opportunity to further your spiritual journey while indulging in white chocolate? Our Signature Chocolate Tasting Gift Set includes an array of decadent treats sure to enchant even the most experienced of chocolate connoisseurs. With flavors like Cardamom Rose, Maple Pecan and Macadamia Praline, you are sure to be enraptured by their creamy taste and heavenly smell. Moreover, the box contains flavors from all over the world--Garam Masala Pistachio, Chai Spice and Balsamic PB&J--to take your taste buds round the globe. Let us help you embark on a culinary exploration interwoven with moments of personal reflection as you experience this exquisite Ramadan treat.
Adding some delectable chocolates into your festivities makes this holy month even more joyous and memorable! At
Cacao & Cardamom
we specialize in premium artisan treats made from only high quality ingredients so you can be sure each bite will be unforgettable! So spice up your celebrations this season and sweeten up your ramadan experience – browse our selection today to find the perfect gift for yourself or someone special in your life!
Share this