Showing Gratitude: Personalized Employee Gifts for Thanksgiving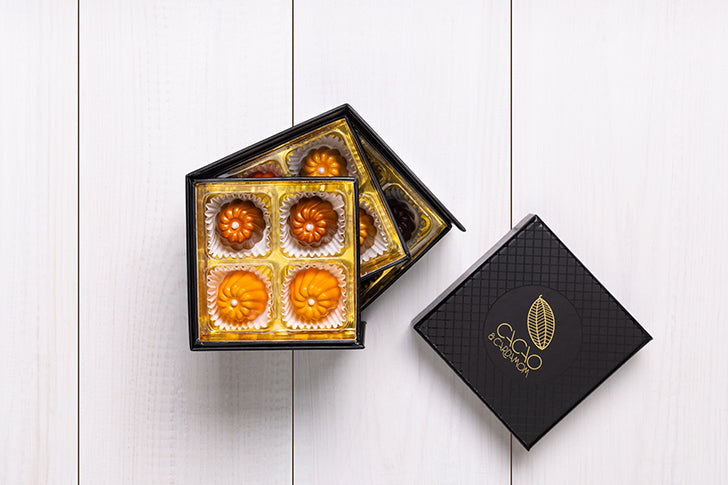 Showing Gratitude: Personalized Employee Gifts for Thanksgiving
Personalized Employee Gifts for Thanksgiving

Expressing gratitude towards employees is an essential aspect of building a positive and thriving work culture. With Thanksgiving around the corner, what better way to show your appreciation for your team's hard work than by gifting them personalized employee gifts? Cacao and Cardamom artisan chocolate collection offers the perfect solution, with their beautifully crafted and expertly curated chocolate boxes.
By giving your employees a personalized box of chocolates from Cacao and Cardamom, you not only show your appreciation but also provide them with a memorable experience. They will be delighted to indulge in the exquisite flavors and textures, including the limited edition 12-piece Artisan Chocolate Box dessert pie bon-bons inspired by the flavors of the season such as Pumpkin Pie, Bourbon Pecan Pie, and other fall favorites.
Aside from the uniquely crafted bon-bons, Cacao and Cardamom also allows you to personalize your employee gifts with individual names or logos, making them even more meaningful and impactful. Additionally, the company's emphasis on ethically sourced and sustainable ingredients ensures that your gift aligns with both your values and your employees'.

Show your appreciation to your staff this Thanksgiving with personalized gifts from Cacao and Cardamom. From thank you chocolate gift baskets to dessert pie bon-bons, we have a variety of options to choose from. Contact us today!
To order your personalized employee gifts for Thanksgiving, simply contact Cacao and Cardamom and let them handle the rest. Your team will appreciate the thoughtful gesture and savor the delicious chocolates, making for a memorable and enjoyable holiday season.
Thanksgiving is a time to reflect on all that we are grateful for in our lives, including the hardworking employees who make our businesses thrive. Expressing gratitude to your staff during Thanksgiving is more than just a kind gesture – it can also have a positive impact on employee morale and productivity. At Cacao and Cardamom, we believe that personalized gifts are the best way to show your appreciation to your employees.
Employee recognition plays a pivotal role in building a positive workplace culture. The simple act of expressing gratitude can have a lasting impact on employee happiness and job satisfaction. Personalized gifts take this recognition to the next level by showing that you've taken the time to choose a gift that's tailored to each individual employee's interests and needs. It can make them feel appreciated and valued, which ultimately leads to a more motivated and engaged workforce.
Cacao and Cardamom offers a variety of options to choose from to make your thanksgiving chocolates for staff, including thank you chocolate gift baskets, personalized thank-you notes or cards, customized name plates for desk accessories, monogrammed office supplies, engraved or customized mugs or drinkware, personalized photo frames, and customized gift baskets. Our limited edition dessert pie bon-bons that include Pumpkin Pie, Bourbon Pecan Pie, Dutch Apple Pie, Peanut Butter Pie, Banana Cream Pie, Sweet Potato Pie, are sure to be a hit at any Thanksgiving celebration.
When choosing personalized gifts for your employees, it's important to consider their individual preferences and the company culture. Take time to consider what each employee would truly appreciate and make the gift meaningful. Expressing gratitude through personalized gifts is a heartfelt gesture that reinforces the value that each employee brings to the company.
To accompany your personalized gifts, it's important to also deliver a sincere thank you message to your employees. A simple but thoughtful message expressing your appreciation for all their hard work can go a long way. Consider delivering the gifts during a special Thanksgiving luncheon or in a virtual setting if employees are working remotely.
At Cacao and Cardamom, we understand that budget considerations can be a concern. That's why we offer budget-friendly options for personalized employee gifts. Remember that it's the thought and personalization that matter most, not the cost of the gift.
Show your gratitude to your staff this Thanksgiving with personalized gifts from Cacao and Cardamom. Contact us today to order your thank you chocolate bar gift basket or personalized gift for your employees.
Share this