Indulge in Easter Joy with Artisan Chocolate Bunnies and Eggs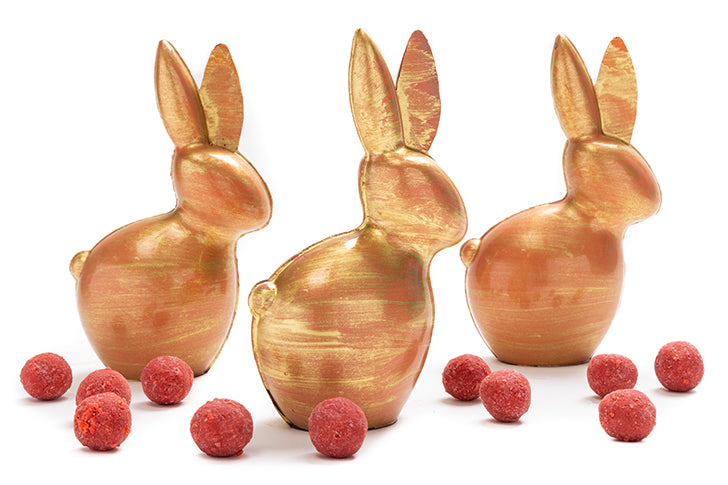 Importance of artisan chocolate in Easter celebrations
Artisan chocolate has become an increasingly popular component of Easter celebrations. For example, artisan crafted easter eggs and chocolate bunnies have been embraced by many as a way to mark the occasion with a unique and high-quality treat. Handmade artisan candy makes for a thoughtful gift or festive addition to seasonal get-togethers. Additionally, artisan chocolate is made from quality ingredients and often offers organic options which can make the holiday indulgence free of artificial flavors or preservatives that are common in less expensive mass-produced chocolates. As such, artisan chocolate is an excellent choice for those who prioritize health and quality when celebrating Easter with beloved friends and family.
Chocolate eggs: fillings and decorations
Introducing artisan easter eggs for the spring season! These exquisite chocolate eggs are hand painted and filled with delectable candy bar fillings, including a Salted Caramel laced with toasted peanuts, a layer of marshmallow fluff, and finished with a Peanut Butter Dark Chocolate Crunch Egg. Prepare your taste buds for the Coconut Fluff Easter Egg, its White Chocolate Candy Bar Egg filling containing a toasted coconut marshmallow ganache and a crunchy caramelized white chocolate rice puff crunch is sure to tantalize. Finally, savor the Hazelnut Cookie Easter Egg, boasting a silky smooth hazelnut butter ganache and a layer of crunchy Speculoos cookie praline. Creative decorations such as white chocolate bunny ears on artisan easter eggs are sure to make all your guests smile. Enjoy these artisan treats this upcoming Easter season!
This Easter season, give your family something extra special with artisan chocolates, bunnies and eggs. Made with fine ingredients and unique decorations, each piece is crafted to stand out from the rest. Whether you choose milk, dark or white chocolate, you can be sure that you'll enjoy the highest quality in flavor and texture. Each bunny or egg is handmade for an unforgettable experience that will delight your taste buds. 
Even the packaging of these artisan treats will make a lasting impression. Our range of beautiful boxes, gift baskets, bags, tints and wraps are perfect for adding a touch of elegance to any occasion. And if you're looking for something more exciting than just chocolate eggs or bunnies this Easter – why not try one of our fun-filled recipes? From truffles to fudge bars there's something to please every palate! 
No matter where you are celebrating Easter this year – indulge in joyous moments of pure pleasure with
Cacao & Cardamom
exquisite artisan
chocolate bunnies
and eggs! With a wide selection of flavors available it's easy to find something special to make your celebration even sweeter! Visit us today to browse our
collection of fine Easter chocolates
and find the perfect way to celebrate this springtime holiday.
Share this