5 Unique and Delicious Valentine's Day Chocolates You Need to Try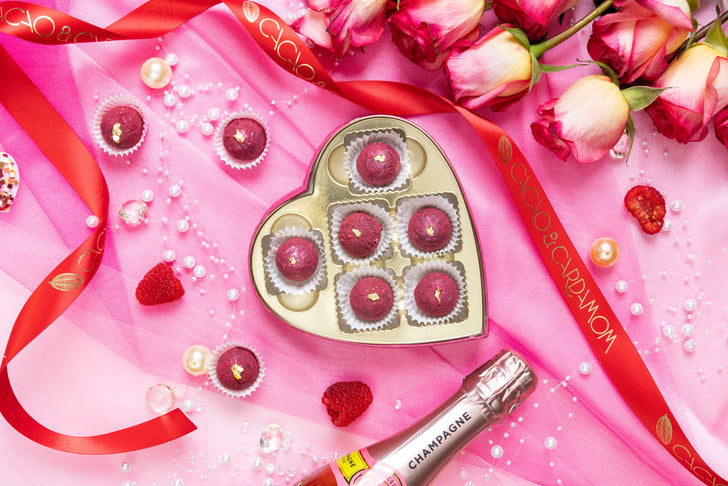 Valentine's Day is the perfect time to indulge in luxurious and unique chocolates. Whether you're looking for a unique gift or just something to satisfy your sweet tooth, here are 5 of the best and most delicious Valentine's Day Chocolates that you need to try.
Baker's Dozen Heart Gift Box, 13 Pieces - Celebrate the most romantic day of the year with our large Baker's Dozen Heart Gift Box. Filled with 13 pieces of delightful chocolates crafted with care, this gift box is an excellent choice for your special someone. Our signature and classic comfort collections are accompanied by our limited edition Valentine's chocolates, providing a variety of irresistible flavors. From classic flavor pairings to unique and creative concoctions, each chocolate is sure to tantalize the taste buds of any lucky recipient. Complete with an elegant heart-shaped box, this large Valentine's Day gift box is the perfect way to show your love and appreciation while indulging in something truly special.
Pink Petite Heart Gift Box, 6 Piece - Our valentine's day chocolate box is the perfect way to show you care. This 6 piece pink petite heart gift box is filled with delicious, handcrafted chocolates in a variety of exciting flavors. From champagne & strawberries to cookies & cream, we have something for everyone. Each piece is carefully crafted using only the finest ingredients that will leave your taste buds buzzing. The elegant heart-shaped box makes for an eye catching and luxurious presentation that will delight your valentine on this special occasion. Share the love and spread joy this valentine's day with our tasty pink petite heart gift box.
9 Piece Sweetheart's Box -Our exclusive 9 piece Sweetheart's Box is the perfect Valentine's Day treat for your special someone! Each handcrafted piece features a unique and enticing flavor, such as Champagne & Strawberries, Popcorn & Butter, Mango & Tajin, Milk & Cereal, Raspberry & Pistachio, Peanut Butter & Jelly, Fig & Goat Cheese, Caramel & Sea Salt, Cookies & Cream or Coffee & Cardamom. Enjoy the delightful taste of our valentine's chocolate box without breaking the bank - it won't take long to fall in love with this sweet selection. Whether you choose to share the love or indulge in it all yourself - a delicious valentine's day experience awaits.
Raspberry Rosé Truffles -If you're looking for chocolates to give this season of love, look no further than Raspberry Rosé Truffles! These unique chocolates are a combination of raspberry and rosé flavors, making them an ideal present for that special someone. These limited edition chocolates have a creamy, white chocolate exterior with a soft truffle center - complete with red raspberry pieces and the subtle flavor of rosé wine. Whether your valentine loves chocolates or drinks, surprise them this season with delightful Raspberry Rosé Truffles!
Valentine's Day 4 Piece Box -Whether you are looking to treat your sweetheart or enjoy an indulgent evening for yourself, our beautifully handcrafted 4 piece Valentine's Day chocolate box is sure to tantalize your taste buds. Every chocolate morsel is carefully crafted with the finest ingredients and comes in an assortment of flavors, including Caramel & Sea Salt, Fig & Goat Cheese, Champagne & Strawberries, and Popcorn & Butter, which may vary depending on their availability. Offering something a little extra special for this romantic holiday, our chocolates are a passionate gift full of romance and flavor - perfect for sharing as a couple or keeping all for yourself!
No matter what type of gifts you have in mind for your loved ones this Valentine's day, there are plenty of unique chocolates at Cacao and Cardamom that can show how much you care. So whether it's treating yourself or someone special in your life, don't forget about these amazing chocolates - they'll definitely hit the spot!
Share this