Delight Your Loved Ones with Exquisite Gourmet Dark Chocolate Gift Baskets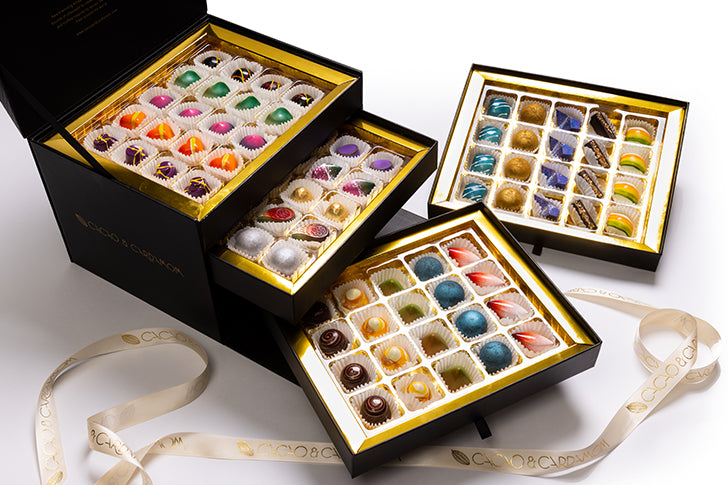 Elevate Your Gift Giving with Personalized Gourmet Dark Chocolate Gift Baskets
Are you exhausted from repeatedly giving mundane and predictable gifts to your loved ones? Why not surprise them with a luxurious gourmet dark chocolate gift basket? At Cacao And Cardamom, we offer an extensive selection of handmade artisan gourmet chocolates that are perfect for any occasion.
Gourmet chocolate houston is a specialty at Cacao And Cardamom. Our artisan craftsmen are dedicated to creating unique and indulgent flavors that are sure to please even the most discerning chocolate connoisseurs. Our gourmet chocolate bars are made with ethically sourced ingredients and are never mass-produced. We want to ensure that you are not only enjoying a delectable treat, but also that it is sourced in an ethical and sustainable way.
Our gourmet dark chocolate gift baskets are the ultimate way to show your appreciation or love for someone. They are meticulously curated with the finest ingredients, all handmade in Houston, Texas. Our gourmet chocolate gift baskets are perfect for a variety of occasions, such as birthdays, anniversaries, holidays, or simply to say "thank you".
Do you want to personalize your gift? No problem! We offer personalized thank you chocolates that will make your gift extra special. We also offer gourmet chocolate next day delivery for those last-minute gift-giving emergencies.
At Cacao And Cardamom, we are committed to delivering the finest handmade gourmet chocolates. We believe in quality over quantity, and that is why our gourmet chocolate gift baskets are unmatched in taste and presentation. Visit our gourmet chocolate stores or gourmet candy stores near me to experience our commitment to excellence firsthand.
Show your loved ones how much you care with personalized and high-quality dark chocolate gift baskets from Cacao And Cardamom. Explore our custom corporate chocolate gifts, chocolate boxes with logo, and more today.
Are you looking for a unique and indulgent gift for your loved ones? Look no further than Cacao And Cardamom's Gourmet Dark Chocolate Gift Baskets. Our custom chocolate bars with company logos, custom logo chocolates, and chocolate boxes with logos are the perfect way to add a personal touch to your gift giving.
We also offer a range of corporate chocolate gift boxes and unique corporate gift baskets that are perfect for showing your appreciation to employees, partners, and clients. Our custom company logo gift boxes and corporate holiday gift baskets are sure to leave a lasting impression and promote your brand.
At Cacao And Cardamom, we believe that the quality of ingredients is just as important as the presentation. That's why we use only the finest dark chocolate and premium ingredients in our gourmet chocolate gift baskets. Our dark chocolate is sourced from the world's finest cocoa growers, and we use only natural ingredients and flavors in our chocolates
In addition to our custom corporate chocolate gifts, we also offer a range of chocolate bars with logo printing options, so you can add your company logo or message to our high-quality chocolate products. Whether you're looking for a small box of chocolates or a luxurious gift basket, we have something to suit every taste and budget.
At Cacao And Cardamom, we take pride in our exceptional customer service and attention to detail. We work closely with our clients to create personalized and unique chocolate gifts that reflect their brand and values. Our corporate clients trust us to deliver high-quality products on time and within budget, and we are committed to exceeding their expectations.
So why settle for a generic gift when you can create a personalized and memorable experience with Cacao And Cardamom's Gourmet Dark Chocolate Gift Baskets? Visit our website today to explore our range of custom chocolate gifts, chocolate boxes with logos, and unique corporate gift baskets. Elevate your gift giving with Cacao And Cardamom.
In conclusion, elevate your gift-giving game with
Cacao And Cardamom
gourmet artisan chocolates. Our
gourmet handmade chocolates
are ethically sourced, handmade in Houston, and are the perfect way to show your love and appreciation for someone special. Visit us today and experience the superior taste of
gourmet chocolate
like never before.
Share this