Customized Autumn Chocolate Desserts to Satisfy Your Sweet Tooth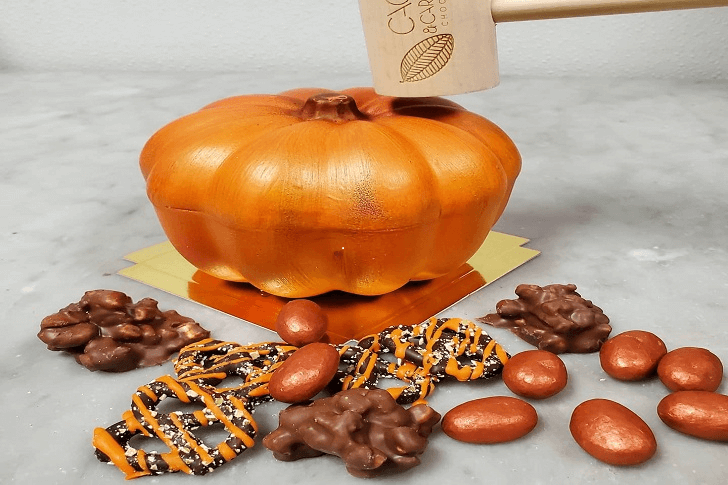 Is there any better combination than brisk November chill and a delicious box of pumpkin spiced fall gourmets with hot cocoa? We are delighted to present an ideal partner to your tricks during "trick or treat" and a delicious memorable dessert to your Turkey during Thanksgiving in form of our autumn inspired fall chocolate dessert boxes. Coated in maple syrup and covered in beautiful golden foils, perfectly crafted these tiny pieces of heaven will give an awe-inspiring sensation of delight to you and your loved ones. Just one bite and you'll understand what makes these mouth watering pieces of delicacies so extraordinary.

We offer a wide variety of smooth chocolate truffles and finely crafted gourmets coated in nuts you can customize the flavors and packing according to your taste and add cards for your loved ones to make it more personalized you can also add logos and order customized chocolate bars for your loved ones. We will help you discover the pleasures of autumn chocolate made with finest ingredients. You will not just see but also taste the craftsmanship and passion put into each confection.

Go ahead and satisfy that sweet tooth of yours that's craving something delicious and sweet with our customized autumn chocolate desserts.

This Thanksgiving don't be the 5th person showing up with wine and bouquet, be different and get your host something out of the box. A sweet way to express sweet thanks is through sweets, customize a box of confections for your host to make them feel your gratitude. It's a simple yet beautifully delicious gift that will appeal all age groups. Choose your sweet selection which you feel is perfect for fall and book your delectable goodies before we run out of stock.

Don't forget something small can also make a lasting impression so book your fall theme confections now!
Share this