Chocolate Gift Etiquette: When and How to Present the Perfect Box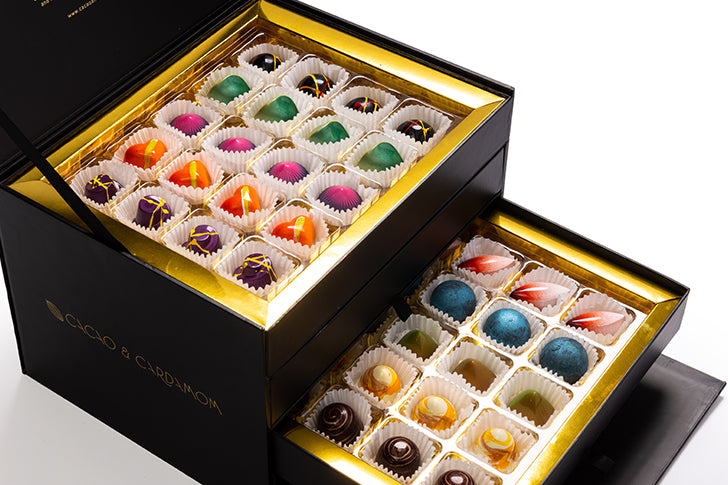 Chocolate Gift Etiquette: When and How to Present the Perfect Box
Chocolate is a universal symbol of love and appreciation, making it the ideal gift for various occasions. When it comes to presenting the perfect box of chocolates, Cacao and Cardamom have mastered the art of chocolate gifting with their exquisite collection of handmade luxury chocolates. In this blog, we will explore the nuances of chocolate gift etiquette and how Cacao and Cardamom artisan chocolate boxes, luxury chocolate gift baskets, and personalized chocolate favors can add a touch of elegance and warmth to your gift-giving experience.
Choosing the Right Occasion for Chocolate Gifting: Cacao and Cardamom range of chocolates cater to every celebration. Whether it's Valentine's Day, birthdays, anniversaries, Mother's Day, or Father's Day, their artisan chocolates are carefully crafted to evoke joy and delight. Moreover, for non-traditional occasions such as graduations, promotions, and expressing gratitude, their corporate logo chocolates make for a unique and memorable gift.
Understanding the Recipient's Preferences: When gifting chocolates, it's crucial to consider the recipient's preferences. Cacao and Cardamom offer an array of options, including milk chocolate and dark chocolate varieties, ensuring there's something for everyone. They are also sensitive to dietary restrictions and allergies, providing nut-free and gluten-free options to cater to all.
Selecting the Perfect Box of Chocolates: Cacao and Cardamom artisan chocolate boxes are a work of art, beautifully curated to create an unforgettable gifting experience. Their selection includes assorted chocolates and single-origin chocolates, allowing you to customize the gift based on the recipient's taste. With unique flavors and fillings, such as cardamom-infused chocolate truffles, your gift will stand out and leave a lasting impression.
Packaging and Presentation: The presentation of a gift is as important as the gift itself. Cacao and Cardamom take pride in their elegant packaging, ensuring that the chocolates are not only delicious but also visually appealing. Their luxury chocolate gift baskets are a true embodiment of sophistication, making them perfect for corporate gifting and special events like weddings.
Etiquette for Receiving Chocolate Gifts: Expressing gratitude is essential when receiving chocolate gifts. Whether it's a box of gourmet chocolate wedding favors or a simple chocolate bar wedding favor, taking the time to thank the giver adds a personal touch to the exchange. Consider sharing the chocolates with loved ones to spread the joy and warmth that comes with chocolate gifting.
Chocolate Gift-Giving Mistakes to Avoid: When gifting chocolates, avoid overspending or choosing generic options. Cacao and Cardamom dedication to creating handmade luxury chocolates ensures that your gift will be unique and thoughtful. Additionally, always inquire about dietary restrictions to avoid any discomfort or allergies.
DIY Chocolate Gift Ideas: For a personal touch, consider creating homemade chocolate treats to accompany Cacao and Cardamom artisan chocolates. You can package them creatively and pair them with their personalized chocolate favors for an extra special touch.
Conclusion: In conclusion, chocolate gift-giving becomes an art with Cacao and Cardamom's exquisite collection of handmade luxury chocolates. Their attention to detail and commitment to quality elevate the act of gifting, making it a cherished experience for both the giver and the recipient. Whether it's a corporate event, a wedding, or a simple expression of love, Cacao and Cardamom's chocolates are the perfect choice for any occasion.
Explore Cacao and Cardamom collection of artisan chocolate boxes, luxury chocolate gift baskets, and personalized chocolate favors on our website. Elevate your chocolate gift-giving experience and create unforgettable memories with their delectable and beautifully presented chocolates. Spread love, appreciation, and joy, one chocolate at a time.
Share this