Holiday Extravagance: Celebrate the Season with Luxurious Chocolate Gift Baskets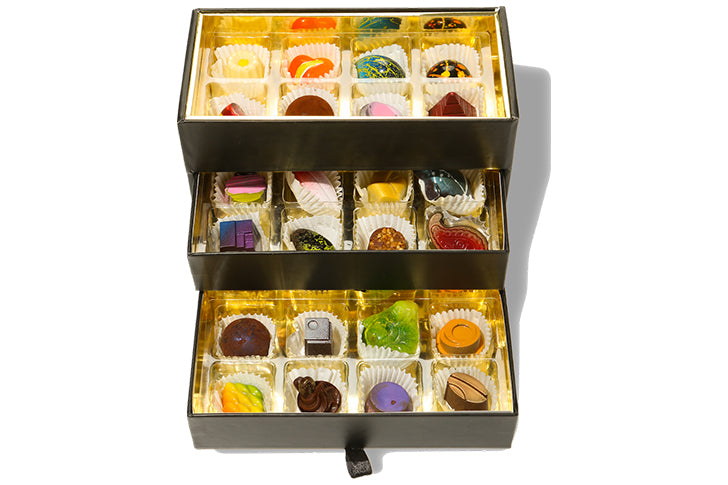 The Benefits of a Luxury Chocolate Gift Basket
The holiday season is the perfect time to embrace extravagance and treat your loved ones to something truly special. If you're looking to make a memorable impression, there's no better way to do it than with a luxurious chocolate gift basket. From gluten-free chocolates to the finest branded chocolate gift boxes, these delightful packages are designed to spread joy and delight during the festive season. In this guide, we'll explore the benefits of luxury chocolate gift baskets, how to select the right one, ideas for making it truly special, and tips on choosing high-quality chocolates to include. Get ready to elevate your holiday gifting game!
The Benefits of a Luxury Chocolate Gift Basket
Why choose a luxury chocolate gift basket over other gifts? Here are some compelling reasons:
Unparalleled Delight:

Chocolates are a universally loved treat, and when presented in a beautifully curated gift basket, they bring immense joy to the recipient.

Thoughtful Personalization:

You can tailor the contents of the basket to suit the recipient's taste, making it a thoughtful and personalized gift.

Variety of Flavors:

Luxury chocolate gift baskets often feature a wide assortment of chocolates, allowing your loved ones to savor an array of flavors and textures.

Impressive Presentation:

These gift baskets are not just about the chocolates but also the aesthetic appeal. They come in elegant packaging that exudes luxury and sophistication.
How to Select the Right Basket for Your Recipient
Choosing the perfect luxury chocolate gift basket involves considering the recipient's preferences and tastes. Here are some tips:
Dietary Preferences:

If your recipient has dietary restrictions, opt for gluten-free chocolates to ensure inclusivity.

Favorite Flavors:

Consider whether they prefer dark, milk, or white chocolate, and select a basket that aligns with their taste.

Additional Treats:

Some gift baskets include extras like nuts, fruit, or gourmet coffee. Choose a basket with complementary items to enhance the experience.

Occasion:

Tailor your selection to the occasion, whether it's a holiday celebration, a birthday, or a simple gesture of appreciation.
Ideas for Making a Luxurious Chocolate Gift Basket Truly Special
To take your gift basket to the next level, consider these creative ideas:
Personalized Message:

Include a heartfelt note or a personalized message to make your gift even more special.

Handcrafted Chocolates:

Opt for artisanal chocolates that showcase craftsmanship and unique flavor combinations.

Themed Baskets:

Create themed baskets, such as a chocolate and wine pairing or a spa day with chocolate-infused skincare products.

Customized Packaging:

Invest in bespoke packaging that reflects the recipient's style or the holiday theme.
Tips on Choosing High-Quality Chocolates for Your Basket
When selecting chocolates for your gift basket, keep these tips in mind:
Check Ingredients:

Read labels to ensure you're getting premium chocolates with high cocoa content and natural ingredients.

Brand Reputation:

Research reputable chocolate brands known for their quality and taste.

Freshness:

Choose chocolates that are freshly made or have a long shelf life to maintain flavor.

Variety:

Include a mix of chocolate types, such as truffles, bars, and pralines, for a diverse tasting experience.
What to Include in Your Chocolate Gift Basket to Make It Stand Out
To create a standout chocolate gift basket, consider these delightful additions:
Luxury Hot Chocolate Mix:

Include a premium hot chocolate mix for cozy winter evenings.

Elegant Wine or Champagne:

Pairing chocolates with a bottle of fine wine or champagne adds sophistication.

Chocolate-Covered Fruit:

Add a touch of freshness with chocolate-covered strawberries or cherries.

Artisanal Cheese:

For a savory contrast, include artisanal cheese to balance the sweetness.
Creative Ways to Package and Present Your Chocolate Gift Baskets
Enhance the presentation of your gift basket with these creative packaging ideas:
Decorative Baskets:

Use elegant baskets or boxes that can be repurposed by the recipient.

Holiday-Themed Wrapping:

Embrace festive wrapping paper and ribbons to capture the holiday spirit.

DIY Touches:

Incorporate handmade ornaments or personalized tags to add a personal touch.

Cellophane Wrap:

For a professional look, use cellophane wrap and a bow for a polished finish.
Where to Find the Most Decadent Chocolates for Your Gift Baskets
When it comes to sourcing the finest chocolates for your gift baskets, look no further than Cacao and Cardamom. We offer a delectable selection of gluten-free chocolates, branded chocolate gift boxes, and luxury chocolate gift baskets that are sure to impress even the most discerning chocolate connoisseur. Explore our collection and make this holiday season truly unforgettable. Visit Cacao and Cardamom now to elevate your holiday gifting experience!
The Perfect Selection, 16 Pieces
Our The Perfect Selection, 16 Pieces is perfect to bring to a dinner party or give someone as a holiday gift. Our sleek black gift box features an assortment of classic Cacao and Cardamom favorites.
Strawberry Pop-Rocks Mendiants
Indulge in our Strawberry Pop-Rocks mendiants that start with freeze-dried strawberries and raspberries folded into a 36% white chocolate. We sprinkle crystallized basil and original Poprocks for a popping experience!
Strawberry Matcha Artisan Bar
Discover our limited edition Strawberry Matcha Artisan Bar with freeze-dried strawberries, black sesame seeds, roasted coconut, and ceremonial-grade matcha, all finished with dark chocolate.
Signature Artisan Bar Gift Set
Want to try our collection of beautiful and delicious Signature Artisan Bars? This collection includes our Health Freak Bar, Coffee & Cardamom Bar, Texas Pecan Bar, and Ruby Raspberry Bar. These will put any other chocolate bar you've had to shame!
Ruby Raspberry Artisan Bar
Experience our handcrafted Ruby Raspberry bar, made with Ruby Chocolate and laced with freeze-dried raspberries and strawberries, as well as crunchy white chocolate pearls. Ruby Chocolate is touted as the "4th type of chocolate" with a remarkable ruby color, intense fruitiness, and fresh, sour notes.
In conclusion, when it comes to holiday extravagance, nothing quite matches the allure of a luxurious chocolate gift basket. With careful selection, creative presentation, and the finest chocolates, you can create a memorable gift that will leave a lasting impression. Make this holiday season special by indulging in the
best chocolates in the USA
, exploring branded chocolate gift boxes, and crafting your own luxury chocolate gift basket. Visit
Cacao and Cardamom
today to elevate your holiday gifting game and delight your loved ones with the gift of exceptional chocolate.
Share this