Introducing Fall Chocolates from Cacao and Cardamom | Fall Chocolates Collection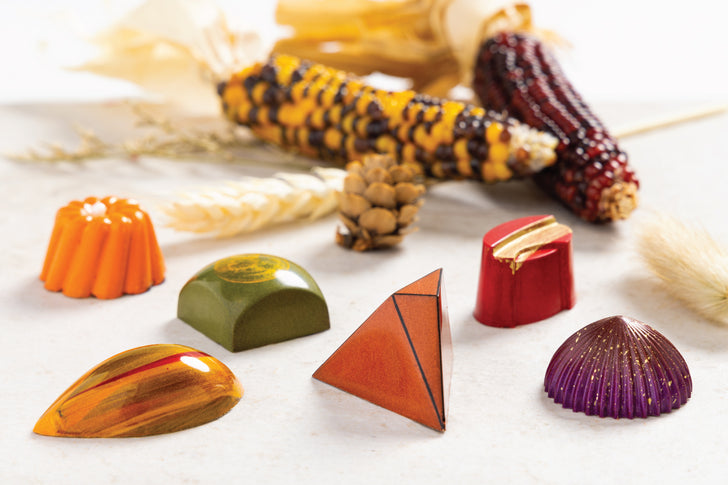 Introduce the new Fall chocolates from Cacao and Cardamom
Cacao and Cardamom, the artisan chocolate brand, is excited to introduce its new Fall chocolates collections. The collection features six flavors inspired by the fall season: Pumpkin Caramel, Fig & Gingersnap, Sticky Toffee Pudding, Horchata and Sunflower Butter. Each flavor is crafted with luxurious ingredients and expert care, resulting in a truly indulgent experience.
Each of these chocolates is perfect for enjoying on its own or pairing with your favorite fall beverage. So go ahead and indulge in the season's best with Cacao and Cardamom new Fall chocolates.
The flavors of the fall chocolates -
Fig & Gingersnap -
As the leaves begin to fall and the days grow shorter, many people find themselves craving comfort foods that remind them of childhood. Fig & Gingersnap is a new flavor of chocolate that captures the essence of fall. The rich, earthy flavor of figs is perfectly balanced by the warm spices of ginger, creating a taste that is both familiar and new. These chocolates are perfect for enjoying with a cup of coffee or tea, and they make an excellent gift for anyone who loves seasonal flavors. Whether you're looking for a delicious treat for yourself or a unique gift for someone special, Fig & Gingersnap chocolate is sure to fill you with fall nostalgia.
Horchata - 
Fall is the best time to relax with a cup of warm chocolate. But why stick to the same old flavors when there are so many delicious variations to choose from? For a twist on the classic, try adding a scoop of horchata to your next mug of cocoa. Horchata is a traditional Mexican drink made from rice, nuts, and spices. It has a creamy texture and a sweet, nutty flavor that pairs perfectly with chocolate. And for an extra touch of fall flavor, try adding a dash of cinnamon or pumpkin spice. So next time you're in the mood for hot chocolate, don't be afraid to experiment with new flavors. With horchata, you can have your cocoa and drink it too!
Mandarin Pecan -
When it comes to the best fall chocolates, Mandarin Pecan always stands out. The pecan industry is huge in the South, and many people love the taste of pecans combined with chocolate. The mix of flavors is perfect for fall, and the chocolates are always of high quality. Mandarin Pecan also offers a variety of other flavors, such as pumpkin spice and cranberry almond. No matter what your preference, you're sure to find a flavor that you love at Mandarin Pecan. So if you're looking for the best fall chocolates, be sure to check out Mandarin Pecan. You won't be disappointed!
The Fall Chocolates Collection from Cacao and Cardamom is the perfect way to celebrate the changing of the seasons. With flavors like pumpkin, ginger, cinnamon, these chocolates are sure to tantalize your taste buds. Head over to our website now to order your own collection!
Share this