Celebrate Easter with These Artisan Chocolate Easter Eggs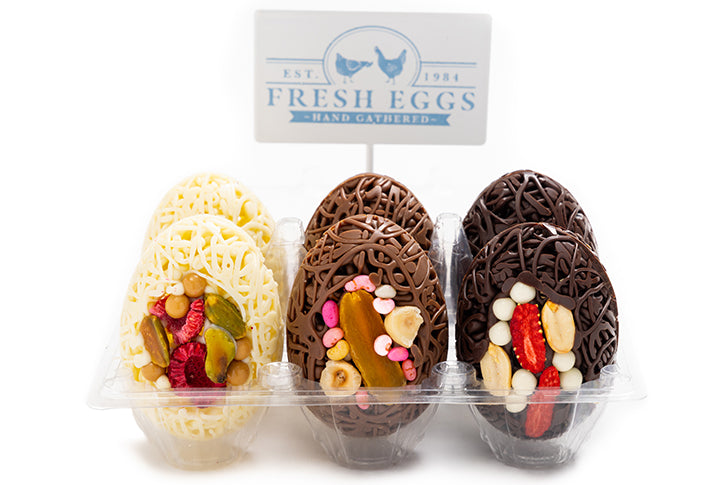 Easter is just around the corner, and what better way to celebrate than with delicious artisan chocolate easter eggs from Cacao and Cardamom? Our Easter chocolates are made with the finest ingredients and crafted with care to ensure every bite is as delectable as the last.
Our dark chocolate easter bunny is the perfect centerpiece for your Easter table. Made with rich, dark chocolate and molded into a playful bunny shape, it's sure to delight both children and adults alike. And if you're looking for something even more indulgent, try our Dark Chocolate Candy Bar Egg. It's a luxurious take on the classic Easter egg, with a smooth and velvety texture that melts in your mouth.
But why stop there? Our Chocolate Candy Bar Egg is another must-try for any chocolate lover. Made with premium milk chocolate, it's a sweet and satisfying treat that's perfect for snacking on throughout the day. And for those looking for a truly unique flavor experience, our Dark Chocolate Candy Bar Egg with cardamom is a must-try. The fragrant spice adds a warm and comforting touch to the rich chocolate, making it the perfect treat to savor during the colder months.
Hazelnut Cookie Easter Egg Candy Bar 
Another popular option is the hazelnut cookie easter egg candy bar. This rich bar features layers of crunchy cookies topped with creamy hazelnut filling and enrobed in creamy milk chocolate for an indulgent treat that will satisfy any sweet tooth. The combination of flavors makes this bar a real crowd pleaser!  
Whether you go for the traditional or something more unusual like our Hazelnut Cookie Easter Egg Candy Bar or our Three Tier Dozen collection– artisan chocolates make for an unforgettable way to celebrate this special time of year! So this Easter season gives your family something extra special—artisan chocolates made by expert artisans using only the freshest ingredients available! Enjoy!
At
Cacao and Cardamom
, we believe that every bite should be a celebration of flavor and quality. That's why we use only the finest ingredients in all of our artisan chocolates, and why we take such care in crafting each and every piece. So why settle for ordinary Easter chocolates when you can indulge in something truly extraordinary? Try our
artisan chocolate Easter eggs
this holiday season and experience the deliciousness for yourself.
Share this