Countdown to Thanksgiving: Top Chocolate Gifts from Cacao and Cardamom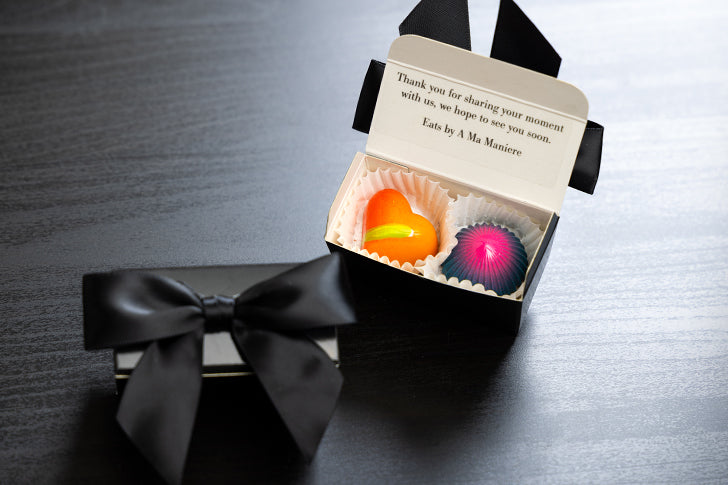 Top Three Chocolate Gifts from Cacao and Cardamom
Ultimate Truffle Collection -
Send a special someone the Gift of Good taste with our Ultimate Truffle Collection. This exquisite box includes an assortment of our finest truffles, from rich milk chocolate to solid dark. Each truffle is handmade with only the finest ingredients, resulting in a smooth, melt-in-your-mouth texture that is truly unforgettable. Whether you are looking for a unique gift for a birthday, anniversary, or simply want to show your appreciation, this luxurious box of truffles is sure to impress. Send the Ultimate Truffle Collection today and let someone know how much you care.
The Perfect Selection, 16 Pieces
C&C's 16 piece box is the perfect way to show your friends and family how much you care. Our selection of classic flavors are sure to please even the pickiest of palates, and our sleek black gift box makes for a beautiful presentation. Whether you're looking for a unique hostess gift or a delicious way to show your loved ones you're thinking of them, C&C has you covered. So ditch the boring old fruitcake this holiday season and treat your loved ones to something truly special. Order your 16 piece box today!
Matcha Mendiants
Thanksgiving is a time for giving thanks, and what better way to do that than with a delicious treat? Matcha mendiants are a perfect Thanksgiving gift for kids, as they are both tasty and attractive. Made with white chocolate and green tea powder, these little discs are adorned with festive ingredients like dried blueberry, apricots, and sprinkle caramelized black sesame seeds. They are also fun to make, so kids will love helping out in the kitchen. Best of all, matcha mendiants are relatively healthy, so you can feel good about giving them as gifts. So if you're looking for a thoughtful and tasty Thanksgiving gift for kids, look no further than matcha mendiants!
why these gifts would make the perfect present for Thanksgiving
Truffles are amazing little indulgences that everyone should enjoy at least once in their lifetime. And what better time to enjoy them than during the holidays? Thanksgiving is the perfect time to indulge in the ultimate truffle experience with the 16 different Flavors chocolates and Ultimate Truffle Collection. This delectable box of chocolates features a wide variety of truffle flavors, from classic dark chocolate to more adventurous options like raspberry Champagne and hazelnut praline. With so many delicious choices, there's something for everyone to enjoy. And because they're individually wrapped, they make the perfect little present for each member of your Thanksgiving table. So whether you're looking for a special treat for yourself or a unique gift for someone else, this truffle collection from Cacao and Cardamom is sure to please.
We know that giving a gift is really about showing how much you care, so we take great pride in creating beautiful packaging that will make your gift unforgettable. Plus, our chocolates are always fresh and arrive at your door quickly so you can relax and enjoy the holidays.
Order your Thanksgiving perfect chocolate gifts today!
Share this