How to Incorporate Ramadan Chocolates into Your Iftar Meal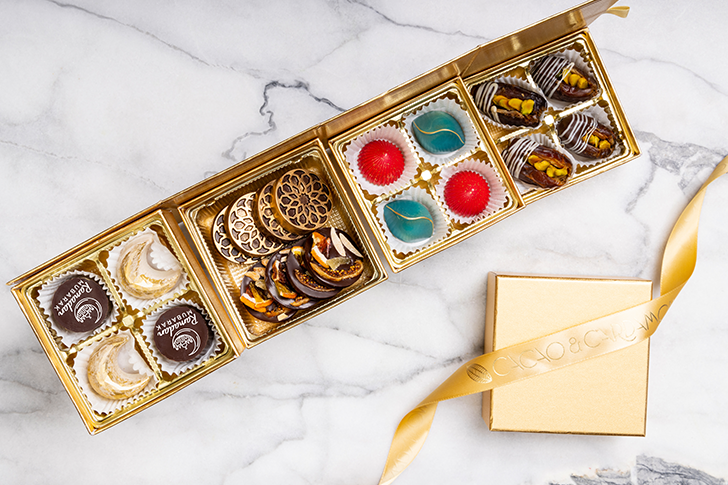 Ramadan is a time for reflection and connection with family and friends. It's a time to give gifts to our loved ones and share the deliciousness of traditional dishes. What better way to elevate your Iftar meal than by adding the sweet, decadent flavors of chocolate? At Cacao and Cardamom, we offer a variety of Ramadan chocolates to enhance your Ramadan experience. Here are some ideas on how to incorporate Ramadan chocolates into your Iftar meal.
Ramadan Chocolate Collection Gift Box
Our Ramadan chocolate collection gift box is the perfect way to share the spirit of Ramadan with your loved ones. Featuring flavors such as Pistachio Halwa, Rose Water Caramel, Honey Nut Crunch, and Turkish Coffee, these artisan chocolates are sure to impress. Place the chocolates on a plate and serve them as a sweet appetizer, or use them as a delicious dessert after your Iftar meal. The presentation of the chocolates in our specialty Ramadan box gift also makes them a great gift for your family and friends.
Ramadan Eid Chocolates Collection
Looking for a wider variety of flavors? Our Ramadan Eid Chocolates Collection features the same flavor profile as the Ramadan chocolate gift box but includes additional flavors like our Dark Chocolate Medallions topped with slivered almonds, oranges, figs, and ginger. This collection is perfect for those who want to taste the unique flavors of our artisan chocolates.
Pistachio Halwa 
One of our most beloved flavors is Pistachio Halwa. This chocolate features a pistachio praline layered with a smooth tahini gianduja, giving it a delicious nutty flavor. Pistachio Halwa can be enjoyed alongside traditional dishes like biryani, kebabs or chaats.
Rose Water Caramel
Another popular flavor is our Rose Water Caramel, which features a buttery, floral caramel infused with rose water. This chocolate pairs perfectly with traditional namak para, samosas, or pakoras.
Honey Nut Crunch
Our Honey Nut Crunch is a delicious combination of wildflower honey reduction layered with a hazelnut praline and crunchy feuilletine. This chocolate complements the sweetness of traditional desserts like sheer khurma or gulab jamun.
Turkish Coffee
For coffee lovers, our Turkish Coffee artisan chocolate is a must-try. The dark chocolate ganache is infused with Turkish coffee and finished with freshly ground cardamom. This chocolate pairs beautifully with traditional coffee-based drinks like Turkish coffee or qahwa.
Date & Nuts
Finally, our Date & Nuts flavor is a perfect blend of medjool date ganache layered with a triple nut crunch. This chocolate adds a unique sweetness to traditional dishes like chicken sajji or kachay gosht ki biryani.
In conclusion, incorporating Ramadan chocolates into your Iftar meal is a great way to add some unique flavors and elevate your traditional dishes. Check out our Ramadan chocolate gift box, Ramadan Eid chocolates collection and artisan chocolate box collection for an artisanal selection of chocolates that are ethically sourced and handmade in Houston, Texas. Visit
Cacao and Cardamom to explore our chocolate collections
and add sweetness to your Ramadan experience.
Share this