How to make your Diwali more creative with corporate chocolate gifts?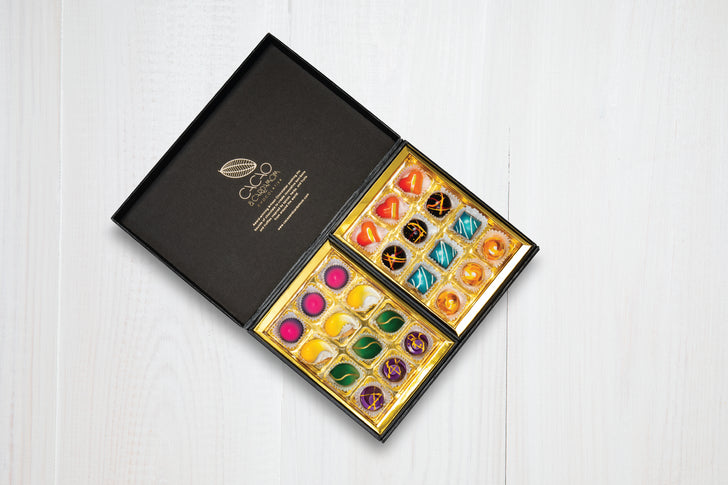 This Diwali, add a touch of creativity to your corporate gifting with custom chocolate gifts. Chocolates are always a hit with employees and clients alike, and customizing them with your company logo or message is a great way to show that you care about your relationship with them. There are many online companies that offer custom corporate chocolate gift boxes, so finding the right one for your budget should not be difficult. When choosing a company, be sure to read reviews to ensure that you are getting a quality product. Once you have found the perfect custom handmade chocolates for your corporate gifting needs, simply sit back and relax knowing that you have made an impression that will last long after the holidays are over.
There's something special about receiving corporate logo chocolates as a gift. Give your clients and employees high-quality branded chocolate to show them how much you care about their well being. This will make it easier for people who receive such gifts from loved ones, or even just loyal customers that love eating sweet treats on occasion!  Corporate logo chocolates are a great way to show your appreciation to clients and employees alike. They show that you care about them as individuals and want to make them feel valued. What's more, corporate logo chocolates taste great and are always well-received. So if you're looking for a way to show your appreciation and make a positive impression on those you do business with, corporate logo chocolates from Cacao and Cardamom are the way to go.
Branding at Trade Show or Events 
A corporate logo in chocolate is an excellent way to create a lasting impression at trade shows and other events. Chocolate is a universal favorite, and people will be drawn to your booth or table when they see that you are handing out delicious corporate logo chocolates. This is an excellent way to market your business, and it is also a great way to show your appreciation for your customers, clients, and employees. corporate logo chocolates are a unique and memorable way to promote your business, so consider using them to brand your company today. Thanks for choosing corporate logo chocolates!
Customized corporate chocolates are a delicious and thoughtful way to promote your business. At Cacao and Cardamom, we specialize in creating unique, handmade chocolates that can be customized to reflect your company's branding. From custom packaging and labeling to unique flavors and designs, we will work with you to create the perfect gift or promotional item for your business. We have a wide range of chocolate options to choose from, so you can be sure to find the perfect match for your brand. And our team of skilled artisans are passionate about creating beautiful and tasty chocolates, so you can be confident that your corporate chocolates will be of the highest quality. 
Contact Cacao and Cardamom today to learn more about how we can create custom chocolates for your business.
Share this