Eid al-Adha Chocolate Traditions: Exploring the Sweet Side of the Festival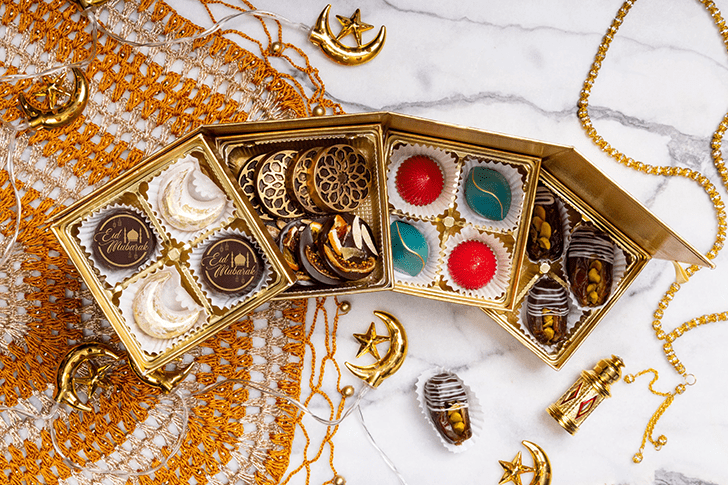 Eid al-Adha and Chocolate: Celebrating the Festive Sweetness with Cacao and Cardamom
Eid al-Adha is a joyous occasion that brings Muslim communities around the world together to celebrate the story of Abraham's willingness to sacrifice his son in the name of God. This important festival is characterized by family gatherings, feasting, and gift-giving. While there are many customs associated with Eid al-Adha, one tradition that has evolved in recent years is the consumption and gifting of chocolate.
At Cacao and Cardamom, we are proud to offer a range of handmade Eid chocolate boxes and custom Eid chocolate gifts that celebrate this centuries-old custom. We source only the finest ingredients to create gourmet chocolate treats that are sure to delight your taste buds and add a touch of sweetness to your Eid celebrations.
Exploring the Origins of Eid Chocolate Traditions
The practice of gifting sweets during Eid al-Adha can be traced back to the Islamic Golden Age in the Middle Ages. At this time, it was customary to give sugar confections to children, family members, and friends as a way to spread joy and strengthen ties between communities.
Over time, this tradition has evolved to include a wide range of chocolate-based treats, from medallions topped with slivered almonds, oranges, figs, and ginger to more decorative Eid chocolate boxes that are intricately crafted and designed to be shared with loved ones.
Unwrapping Popular Regional Variations
Just as different regions around the world have their own unique Eid al-Adha customs, there are also variations in the types of chocolate gifts that are exchanged during this festival.
In some parts of the world, for example, it is traditional to serve chocolate cake or chocolate-covered dates as part of the celebratory feast. In other regions, decorative chocolate boxes are filled with sweets such as truffles, caramels, and pralines, each carefully crafted to represent different facets of the Eid al-Adha story.
Crafting Your Own Chocolates gift box for Eid al-Adha
If you're looking for a special way to celebrate Eid al-Adha with your family and friends, why not try making your own chocolates gift box at home?
At Cacao and Cardamom, we offer a range of chocolates that can be given as gifts and delicious treats. From tempering chocolate to creating unique flavor profiles, we provide the perfect chocolates gifts for anyone.
Tips on Storing and Eating Your Homemade Chocolates
Whether you're buying handmade Eid chocolate or making your own at home, it's important to store your treats properly to ensure they stay fresh and delicious for as long as possible.
In general, it's best to store chocolate in a cool, dry place away from direct sunlight. If you're making your own chocolates, be sure to follow the recipe carefully to ensure that the chocolate is tempered correctly and has a smooth, glossy finish.
Celebrating with Chocolate this Eid al-Adha - Gift boxes to Try!
If you're looking for some inspiration to get started with your Eid al-Adha chocolate celebrations, here are a few to try:
Dark Chocolate Medallions - Simply melt dark chocolate and pour it onto a lined baking sheet. While the chocolate is still warm, top it with slivered almonds, oranges, figs, and ginger for a fruity and spicy twist.
Eid Mubarak, 8 Piece - This special box contains two of our most popular flavors from Ramadan, Pistachio Halva and Chocolate Covered Dates. The golden Crescent moon is filled with a layer of pistachio praline, pistachio nibs, and finished with a white chocolate tahini gianduja. The Eid Mubarak Chocolate is filled with a layer of a medjool date ganache with a triple nut praline, reminding the flavor of chocolate-covered dates.
At Cacao and Cardamom, we are passionate about sharing the joy of great food and exceptional chocolate. Visit our website today to learn more about our handmade Eid chocolate boxes and custom Eid chocolate gifts, and discover the sweet side of Eid al-Adha!
Share this