Late-Night Cravings, Instant Gratification: The Convenience of Dark Chocolate Next Day Delivery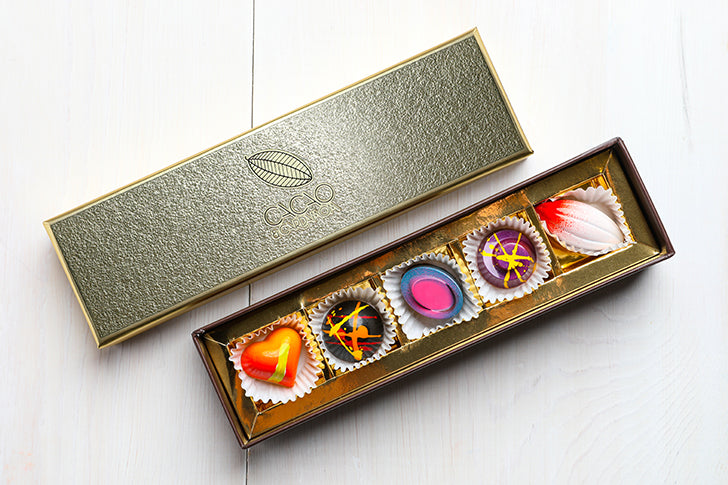 Dark Chocolate Next Day Delivery: A Sweet Solution to Late-Night Cravings
Are late-night cravings for something sweet and indulgent a familiar sensation? Imagine this scenario: It's past midnight, and your sweet tooth is beckoning. You yearn for the rich, velvety embrace of dark chocolate, but the local stores are closed. Fret not, for our gourmet chocolatier has the perfect solution for your late-night cravings. With our Dark Chocolate Next Day Delivery, you can enjoy the convenience of having premium artisan chocolate bars and boxed chocolate gifts delivered right to your doorstep.

Salted Caramel Spread: A Buttery Bliss for Your Taste Buds
Picture a jar filled with decadently rich and buttery caramel, perfectly balanced with a pop of fleur de sel salt—a symphony of flavors that dances on your palate. At our chocolatier, we take pride in creating the finest spreads, and our Salted Caramel Spread is no exception. It's not just a spread; it's a culinary masterpiece that elevates your late-night snack game. Whether you pour it over ice cream, dip fresh-cut fruit, or spread it on warm toasted bread, each jar bursts with salty-sweet goodness, and there are no additives or preservatives added.

Cashew Cinnamon Spread: A Sweet Symphony for After-Dinner Delight
After a satisfying dinner, the desire for a delightful dessert lingers. Our Cashew Cinnamon Spread is the perfect companion for your after-dinner indulgence. Crafted with the finest ingredients, this spreadable delight is a blend of salty-sweet flavors that will have you reaching for more. Drizzle it over ice cream, dip your favorite fruits, or slather it on a warm slice of toasted bread. And just like our other spreads, it contains no additives or preservatives, ensuring pure enjoyment.

Signature Chocolate Tasting Gift Set: A Chocolate Lover's Dream
If you're a true chocolate connoisseur, our Signature Chocolate Tasting Gift Set is a dream come true. Featuring 36 pieces of our most popular chocolates, this box is a journey for your taste buds. From the exotic allure of Chinese Five Spice Praline to the comforting embrace of Dulce de Leche, each bite is an adventure in itself. With flavors like Maple Pecan, Cardamom Rose, and more, this set is a must-have for anyone who adores artisan chocolate bars. Get ready to embark on a chocolate-tasting escapade!

No Melt Shipping Guarantee: Ensuring Freshness Every Time
We understand that the quality of our chocolates is paramount. That's why we offer a No Melt Shipping Guarantee to ensure that your chocolates arrive in perfect condition, even in the warmest weather. We take pride in using ethically sourced ingredients and handcrafting our chocolates in Houston, Texas. With our commitment to freshness and quality, you can indulge in our chocolates and spreads with confidence.

Dark Chocolate Almond Spread: A Symphony of Flavors in a Jar
Our Dark Chocolate Almond Spread is a delightful fusion of housemade almond butter, dark chocolate, and sea salt. Crafted with the finest ingredients, it's the perfect addition to your late-night snacking ritual. Whether you're pouring it over ice cream, dipping fresh-cut fruit, or spreading it on warm toasted bread, each jar is a treasure trove of salty-sweet flavors, free from additives or preservatives. Satisfy your cravings with this delectable creation.

Pistachio Praline Spread: Nutty Elegance in a Jar
For those who appreciate the elegance of pistachios, our Pistachio Praline Spread is a must-try. Caramelized pistachios, toasted to perfection, are blended with white chocolate to create a spread that's a true masterpiece. Whether you're enjoying it with ice cream, fresh fruit, or on toasted bread, each jar is packed with nutty goodness and salty-sweet flavors. As with all our products, there are no additives or preservatives added.

Ready to satisfy your late-night cravings with our artisan chocolate bars and delectable spreads? Explore our selection at Cacao and Cardamom and order now for next day delivery! Experience the convenience of gourmet chocolatier indulgence. Treat yourself or surprise a loved one with our chocolates gift baskets today.
Share this