A Gourmet Chocolate Gift Box Sure To Delight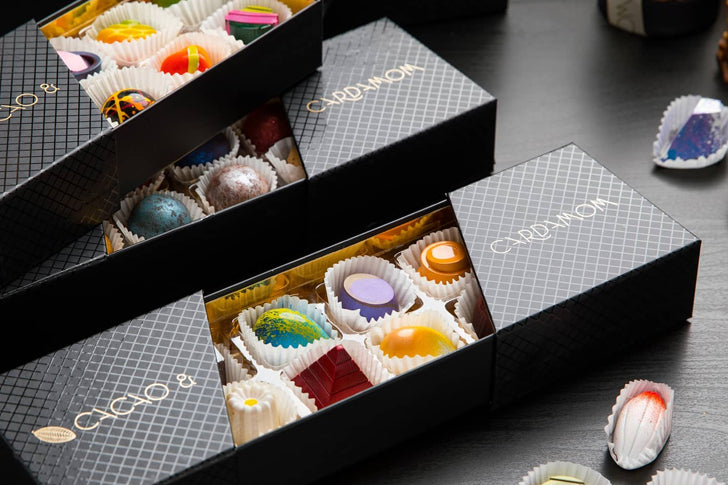 Whenever you celebrate a special occasion, handcrafted chocolates make an ideal gift. In the world of gourmet chocolate, Cacao and Cardamom have set themselves apart with their unique and delectable recipe. Chocolate is the perfect gift for any occasion and for everyone, but you may not want to share it. With its rich flavor and lovely texture, this chocolate will leave you wanting more. If you're looking for a chocolate that's sure to impress, Cacao and Cardamom chocolates are the perfect choice.
At Cacao and Cardamom, we are proud to offer a wide selection of handmade chocolate and confectionery products. Whether you're looking for the perfect chocolate gift box for a special occasion or searching for gourmet chocolate that is perfect for corporate gifting, our online store has everything you need. All of our chocolate products are made with the highest-quality ingredients and feature unique flavor combinations that are sure to impress even the most discerning palates. And with our fast and easy shipping options, it's never been easier to treat yourself or loved ones to a chocolate gift from Cacao and Cardamom.
Whether you're looking to buy chocolate gift baskets for holidays or corporate gifts for your clients, our selection is sure to please. And with delivery available across the USA, including Houston, you can stay rest assured that your chocolate gifts will arrive safe and sound anywhere you need them to go.
Cacao and Cardamom's handmade chocolates & confectioneries are the perfect gift for any occasion. Our chocolate gift boxes, hampers, and corporate chocolate gifts are sure to impress your clients and colleagues.
So why shop anywhere else? For the best chocolate gifts online, look no further than Cacao and Cardamom. Order online today and have your chocolate gift delivered anywhere in the USA.
Share this