The Dark Chocolate Gift Basket: A Decadent Delight for All Occasions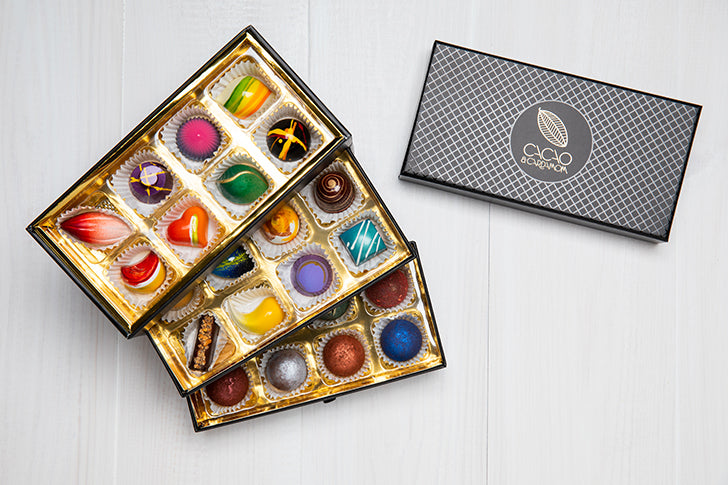 The Dark Chocolate Gift Basket: A Decadent Delight for All Occasions
There's something about indulging in rich, decadent chocolate that makes a moment all the more special. Whether you're celebrating a birthday, anniversary, or simply want to show someone you care, a dark chocolate gift basket is the perfect way to share life's sweetest moments with friends and family.
At Cacao and Cardamom, we pride ourselves on our artisanal approach to chocolate making. From using the finest ingredients to handcrafting each chocolate with care, our chocolate delights are created to tantalize your taste buds and elevate your senses. Our selection of dark chocolates is no exception. 
Our dark chocolate collection includes a diverse range of flavors and textures, from the Dark Chocolate & Orange Artisan Bar featuring candied and dehydrated oranges, to the Dark Chocolate Medallions topped with slivered almonds, oranges, figs, and ginger. We also have the 72% Venezuelan Mendiants with roasted pistachios, almond slivers, calimyrna figs, and crystallized ginger along with Dark Chocolate Candied Orangettes that are perfect for chocolate and citrus lovers. Each chocolate in our collection represents a unique and delicious experience that is sure to impress even the most discerning chocolate aficionado.
We understand that presentation is as important as the quality of the chocolate itself. That's why we take extra care to create an impressive and attractive presentation for our dark chocolate gift baskets. Each basket is adorned with small jewelry box-like containers to hold each chocolate piece. You can also choose from different sizes of chocolate-themed gift baskets for your loved ones, and even build your own chocolate box from our expansive inventory. For corporate chocolate logo gifts, we offer customization options too. We make sure our boxed chocolate gifts are delivered on time, as per your preference.
We pride ourselves on using only the finest ingredients in our chocolates. All of our chocolates are gluten-free, and with our rigorous quality control measures in place, we ensure that our chocolates are of the highest quality and taste. We understand the importance of providing only the best options for those with dietary restrictions, hence we have an extensive range of gluten-free chocolates in our collection.
Our chocolates are available for online purchase and same-day delivery online in Manhattan. You can browse and buy chocolate online in our store, and have it delivered right to your doorstep. Our artisan chocolates online in the USA are sourced from the best chocolatiers across the country, who are equally passionate about creating chocolates that are both exquisite and dynamic.
At Cacao and Cardamom, we believe in celebrating life's sweet moments. We believe that the gift of chocolate holds a special place in everyone's heart. So the next time you're looking for chocolates for gifting, treat someone special to a gourmet chocolate gift basket from our catalog of artisan chocolates and give them a moment that they'll cherish forever. 
Share this