Send Your Mom Some Love This Mother's Day with Delicious Chocolate Delivered From Cacao and Cardamom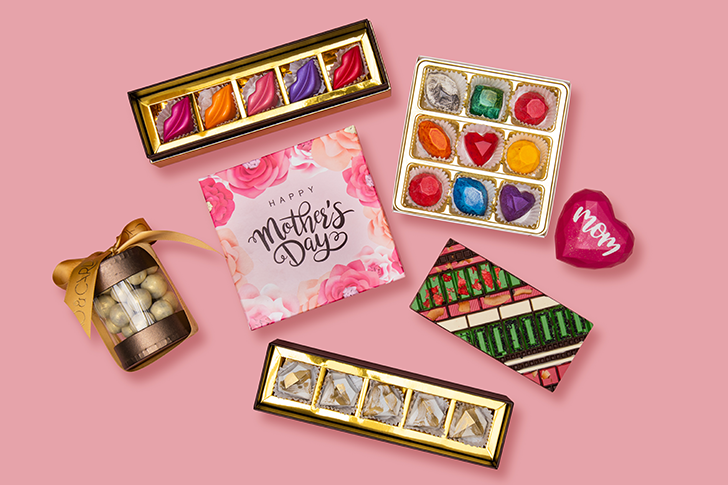 Treat Your Mom to the Best Chocolate for Mother's Day with Cacao and Cardamom
As Mother's Day is fast approaching, you may be wondering what to give your mom as a special treat. Why not send her some love with delectable mothers day sweet chocolate gift boxes from Cacao and Cardamom? We are an artisanal chocolatier that specializes in handcrafted chocolates made with only the finest quality ingredients.
Our unique approach to chocolate making involves using exotic ingredients from all around the world. We believe that chocolate should be an experience that transports you to different places and cultures. That's why we have curated a range of chocolate collections that will take your mom's taste buds on an unforgettable journey.
Our Mother's Day gift packages are the perfect way to show your mom how much you appreciate her. Choose from our Emerald, Pink Diamond, or Sapphire Collections, each featuring a variety of rich and decadent chocolate bon-bons. Delight your mom with our Jewel Botanicals, Vegan Kisses, Chai S'mores Caramel bar, Strawberry Matcha Artisan Bar, and many more unique flavors.
If your mom is a Dark Chocolate lover or follows a Vegan diet, we have got you covered too. Our Vegan Chocolate Kisses are the perfect gift for the Vegan moms, while our Fleur de Sel Diamond Caramels are a delightful combination of Caramel, Sea Salt, and Dark Chocolate.
Ordering chocolates for Mother's Day gifting from Cacao and Cardamom is an easy and convenient process. Simply visit our website to browse through our collections, select your preferred package, and personalize your order. We offer delivery options and timelines depending on your location.
If you're looking to send chocolates for Mother's Day, Cacao and Cardamom has a wide selection of delicious artisan chocolates that are sure to delight your mom. Ordering chocolates online is quick and easy, and can be done in just a few simple steps.
Gifting chocolates is a thoughtful way to show love and appreciation. Studies have shown that dark chocolate, in particular, has numerous health benefits, including reducing stress and improving cognitive function. With the unique flavors and ingredients of our handcrafted chocolates, you are sure to make your mom's day extra special.
In conclusion, Cacao and Cardamom offer the best chocolate for Mother's Day gifts that your mom is sure to love. Our chocolates are made with the finest ingredients, curated from around the world, making them the perfect personalized gift for your mom.
Visit the
Cacao and Cardamom
website today to send your mom some love with our handcrafted artisanal chocolates. Don't miss out on giving the special mother in your life the gift of delicious chocolates this Mother's Day.
Share this