Celebrate all The Christmas Traditions Together with Sweet Confectioneries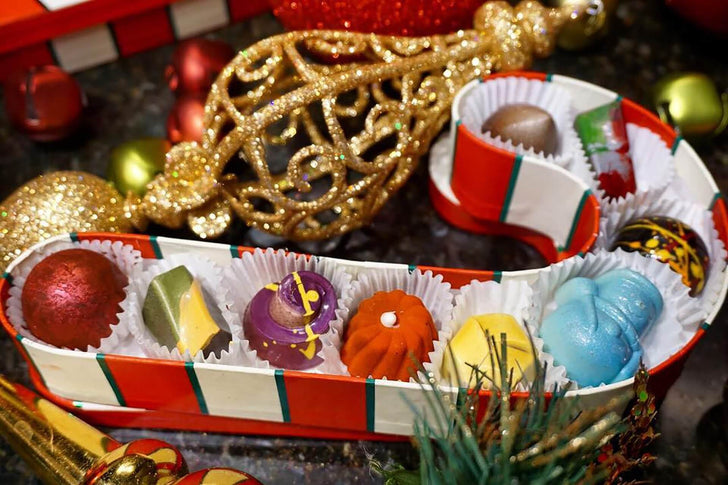 For many to have the merriest of the Christmas holiday season, chocolates and other cocoa sweet confectioneries are a must. Sharing a cup of full cream hot chocolate on a snowy cold night basking in the warmth from the fireplace or sharing a box of chocolates for Christmas, cocoa and chocolates bind families and friends together at every age. The best chocolate gift boxes for boxes of chocolates for Christmas are hard to come by in today's mass-produced chocolate boxes that we eat very often on every holiday season gifted by our acquainting not wanting to put the effort.
To gift the best chocolate gift box options are fine gourmet chocolates from one of the best chocolatiers in the USA for the box of chocolates for Christmas and stocking stuffer for your chocoholic family member, friends, or your loved one. Cacao and Cardamom are some of the finest chocolatiers putting to an end for what sweet confections to gift in the holiday season and have the best gourmet box of chocolates for Christmas options.
This year, on most of the holiday seasons, not many had the chance to visit their families due to the pandemic, and the Christmas season for most will be no exception. But, don't let the distance ruin your chance to strike your message to your loved ones for Christmas chocolate gifts.
Cacao and Cardamom are the best gourmet chocolatiers for Christmas chocolate gifts to send to your special somebody. They are one of the finest chocolatiers featured in The New York Times magazine for their twist on traditional chocolate making with new techniques blending in dark chocolate with Asian fruit notes and spices.
Cacao and Cardamom's website hoasts one of the largest gourmet boxes of chocolates for Christmas options and gets them delivered to your family's doorstep.
Share this