Valentine's Day Gift Guide For Chocoholics – The Best And Most Unique Artisan Chocolates You Can Buy Online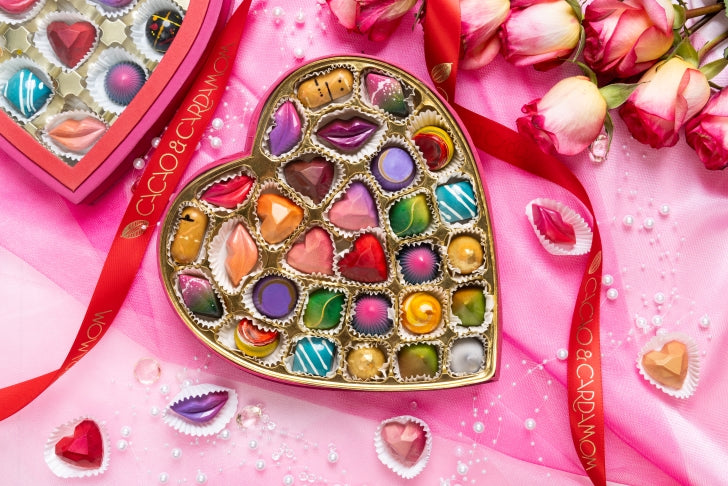 Valentine's Day is the perfect time of year to express your love and appreciation through gifts. And what better way to show someone special how much you care than with some delicious artisan chocolates? Whether you're shopping for a vegan valentine gift basket, a heart-shaped box of handmade chocolates for your true love, or something special for that special guy in your life – there are plenty of options out there. To help make the shopping process easier, we've put together this Valentine's Day Gift Guide for Chocoholics – featuring eight of the best and most unique artisan chocolates that you can buy online from Cacao & Cardamom.
The first option on our list is our Sweetheart's Treasure Box, 48 Piece Box. This set includes 12 different varieties of artisan chocolates made from ethically-sourced cocoa beans in South America. In addition to being vegan and gluten-free, these exquisite treats will melt in your mouth with intense flavor notes of caramel and hazelnut praline. The beautiful packaging also makes this set a great choice as a romantic gift – perfect for that special someone on Valentine's Day!
Impress your loved one this Valentine's Day with a gift that is truly unforgettable, our exquisite 48 piece box of chocolates. Crafted by master chocolatiers using only the finest ingredients and an array of unique flavors, each bite offers a mouthwatering symphony of taste and texture; from velvety truffles to creamy ganaches. Our elegant box features different shapes and designs that provide sweet surprises at every turn! Indulge in romantic luxury with luxurious flavor combinations including Champagne & Strawberries, Popcorn & Butter Coconut Mango Tajin', Milk Cereal Raspberry Pistachio Peanut Butter Jelly Fig Goat Cheese Caramel Sea Salt Cookies Cream Coffee Cardamom -a dreamy delight for any palate!
Next up is our largest Heart shaped box of chocolate. This Valentine's Day, show your special someone just how much you care with a luxurious gift of chocolate. Our 1LB Heart Shaped Box is overflowing with an exquisite selection of handcrafted chocolates that are sure to please even the most discerning sweet tooth! From velvety truffles and creamy ganaches to classic favorites like caramels and pralines, each bite promises a divinely indulgent experience. The elegant heart-shaped box serves as the perfect symbol for love - turn up those romantic vibes this year by gifting our delicious range of artisan delights!
If you're looking for something less traditional but still incredibly delicious - why not check out Our 16 Piece Whimsical Heart? Show your special someone how much you love them this Valentine's Day with our Whimsical Heart Chocolate box. Our indulgent chocolates are crafted from the finest ingredients and feature a curated selection of beloved bon-bons, truffles, and limited edition goodies that create an unforgettable taste experience for two! Don't miss out on these decadent delights - make sure to give your sweetheart something truly scrumptious this year.
No matter who you are shopping for this Valentine's Day; Cacao & Cardamom has just what you need when it comes to finding the perfect artisan chocolates online! Our selection offers something special for everyone – whether it be vegan valentine gift baskets, best chocolates for Valentines or any other delicious treats guaranteed to satisfy that sweet tooth! So don't wait another minute - head over to Cacao & Cardamom today and find all the luxurious flavors that make up this exclusive collection! With these incredible artisan chocolates; give someone special something memorable on Valentine's Day - every bite filled with love!
Share this