The Best Places to Buy Ramadan Chocolates Online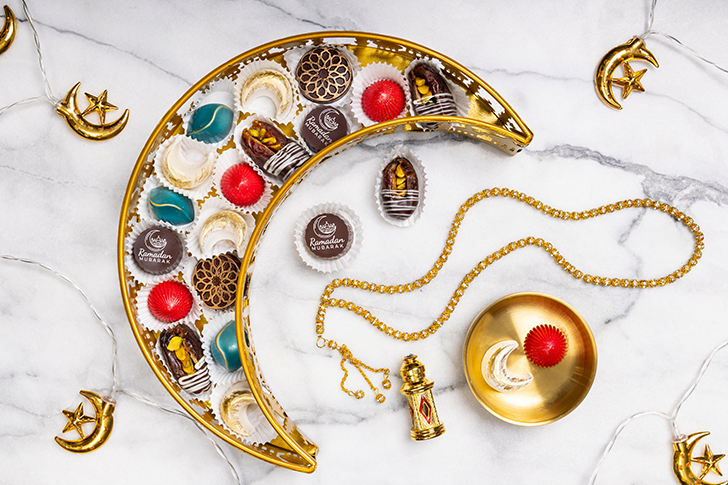 The Best Places to Buy Ramadan Chocolates Online - Get Your Ramadan Eid Chocolates Collection Now
Looking for the best places to buy Ramadan chocolates online? Look no further than Cacao and Cardamom! Our Ramadan artisan chocolate box collection is the perfect way to indulge in your sweet tooth and satisfy your cravings without compromising on quality.
Our collection is specially curated to cater to the diverse tastes of our customers, with exquisite flavors that range from the nutty and creamy Pistachio Halwa to the floral and butterfly Rose Water Caramel. Our collection also includes the crunchy and savory Honey Nut Crunch, the invigorating and aromatic Turkish Coffee, as well as the date-filled and nutty Date & Nuts.
If you want to add an extra touch of elegance and sophistication to your gift, our Ramadan dark chocolate coins topped with slivered almonds, oranges, figs, and ginger will be the perfect fit for you. 
Our Ramadan gift collection also includes the Eid Mubarak Chocolate, specially crafted to celebrate the joyous occasion of Eid. The golden Crescent moon is filled with a layer of pistachio praline, pistachio nibs, and finished with a white chocolate tahini gianduja to resemble the flavors of Pistachio Halwa. The Eid Mubarak Chocolate is filled with a layer of a medjool date ganache with a triple nut praline, reminiscent of chocolate covered dates.
Every piece in our collection is made with ethically sourced ingredients, and is handcrafted in Houston, Texas to ensure maximum freshness and quality. Our no-melt shipping guarantee ensures that your chocolate will arrive in perfect condition, no matter where you are.
So what are you waiting for? Head over to our website now and order your Ramadan Eid Mubarak chocolates collection today! Whether you're looking to treat yourself or surprise your loved ones with a decadent gift, our collection is sure to elevate your Ramadan Kareem chocolates experience to the next level.
Visit
Cacao and Cardamom
and let us help you create unforgettable memories with our exquisite chocolates.
Share this