Custom chocolate Gift: Experience the joy of gifting | Custom Printed Gift Chocolate Box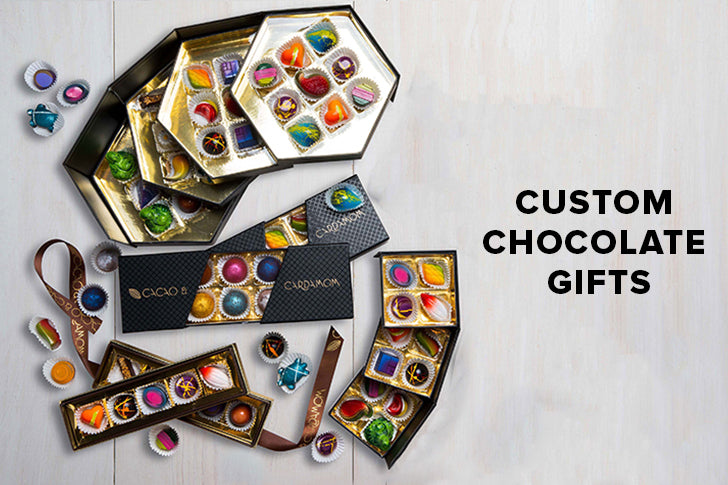 Chocolate is the perfect gift for any occasion! Our chocolates are made with the finest ingredients and come in a variety of flavors. Whether you're looking for something classic or want to try something new, we have the perfect chocolate for you.We know that finding the right gift can be difficult. That's why we offer custom chocolate gifts that are sure to please everyone on your list. You can choose from our selection of flavors or create your own unique combination.
Throughout history, chocolate has been associated with love and appreciation. In ancient times, chocolate was often given as a gift to express affection or gratitude. Today, the custom of giving chocolate as a gift continues in many cultures all over the world. For many people, giving a box of chocolate is seen as a thoughtful gesture to show someone that they are loved or cared about.
2 PIECE CUSTOM LOGO GIFT BOX  -
Looking for a unique and elegant gift for a special occasion? Look no further than Cacao & Cardamom! Our French Artisan chocolates are sure to please any chocolate lover, and our custom gift boxes make the perfect addition to any event. Whether you're looking for wedding favors, baby shower gifts, graduation gifts, or birthday presents, our team will work with you to create a custom order that is sure to impress. Choose from our Signature Collection or create your own custom color or flavor combination - the possibilities are endless! So what are you waiting for? Order your custom gift box today!
At Cacao & Cardamom, Custom Printed Gift Chocolate Box, we specialize in creating custom-printed chocolate boxes that are perfect for any occasion. Whether you want to express your love for someone special or show your appreciation for a friend or family member, we can help you create the perfect gift. We offer a wide variety of styles and designs to choose from, and we can even custom-print your message or logo on the box. So if you're looking for a unique and thoughtful way to show someone you care, look no further than Custom Printed Gift Chocolate Box by Cacao & Cardamom
Share this