Personalized corporate gifts at Special Occasion for Your colleagues: Make it Sweet & Special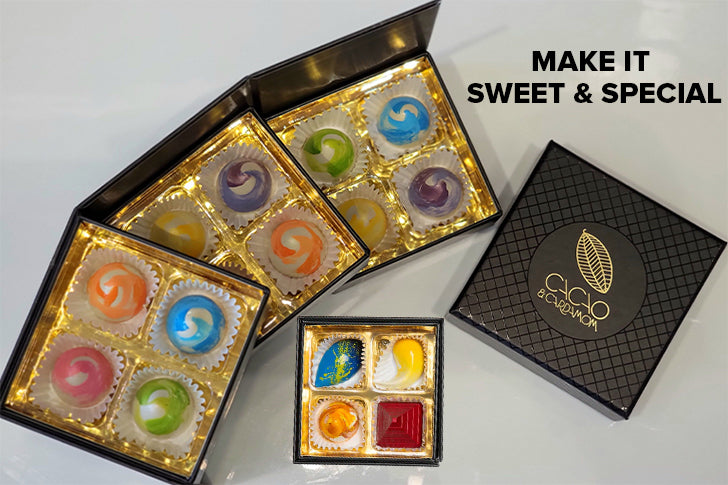 Personalized chocolate gift boxes are a unique and thoughtful way to show your loved ones how much you care on their birthday. Whether you are looking for a personalized gift for your partner, best friend, or family member, these beautiful chocolate boxes are sure to impress. Each box is filled with a selection of hand-crafted chocolates that have been expertly designed to suit each individual's personal taste. Whether you choose a classic milk chocolate box or something more adventurous like a dark chocolate with orange flavor, you can be sure that your loved one will appreciate the thoughtfulness of your gift.
If you are looking for a corporate birthday gift that will really make an impression, then why not opt for a personalized chocolate gift box? These boxes can be customized with your company logo or branding, making them a creative and unique way to promote your business. They are also an excellent way to thank loyal employees or clients for their continued support. Whatever the occasion, personalized chocolates are sure to make it extra special.
Cacao and cardamom offers creative corporate chocolate gifts that are perfect for engaging employees and celebrating milestones. Their chocolates are handmade with the finest ingredients and come in a variety of unique flavor combinations.Cacao and cardamom corporate gift options are also customizable, so you can create the perfect gift for your employees. Whether you're looking for a fun way to show your appreciation or a thoughtful way to celebrate a milestone, cacao and cardamom has the perfect solution for you.
At Cacao and Cardamom, we believe that chocolate should be a personalized experience. That's why we offer custom gift box options for every occasion. Whether you're looking for a birthday present, a corporate gift, or just a way to show someone you care, our personalized chocolate gift boxes are the perfect solution. We hand-select the finest ingredients and use only the purest dark chocolate to create a truly luxury experience. We also offer creative corporate chocolate gifts for businesses who want to show their clients and employees a special gesture of appreciation. Shipping is always easy and convenient, anywhere in the US. Stop by our website today to learn more and place your order.
Share this