Unique and Indulgent Flavors to Include in Your Luxury Chocolate Gift Basket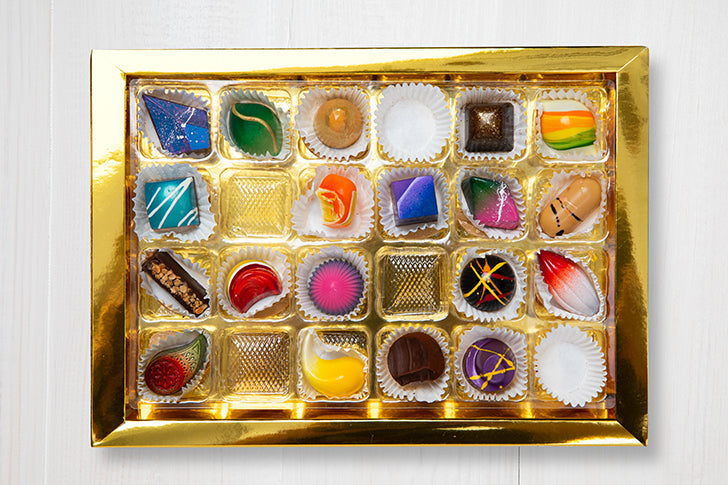 Unique and Indulgent Flavors to Include in Your Luxury Chocolate Gift Basket
Do you want to give a gift that stands out and leaves a lasting impression? Look no further than luxury chocolate gift baskets featuring unique and indulgent flavors. These gourmet chocolate bars offer a multi-dimensional and memorable tasting experience that traditional chocolates cannot match. 
Cacao And Cardamom offers an extensive range of online luxury chocolate stores that you can choose from for your gift basket needs. Whether you're looking for corporate holiday gift baskets or business chocolates, our handmade chocolates infused with exotic spices, fruits, nuts, and liquors will impress even the most discerning chocolate connoisseurs. 
One of our best-selling products is our Signature Chocolate Tasting Gift Set, which includes 36 handcrafted pieces of our most popular chocolates. You can expect to tantalize your taste buds with flavors like Five Spice Praline, Dulce de Leche, Mango Caramel, and more. And don't worry about melting - we offer a no-melt shipping guarantee. 
When curating your luxury chocolate gift basket, consider balancing traditional flavors with unique ones to offer a diverse and exciting assortment. Pairing flavors with complementary items like wine, coffee, or cheese can further enhance the taste and enjoyment of the chocolates. 
Personalization is also key in luxury chocolate gift baskets. Including a variety of unique flavors that cater to different tastes and preferences, customizing packaging, and adding personalized notes can make the gift basket extra special. 
With Cacao And Cardamom, you can rest assured that you'll be giving the highest quality luxury chocolates. Our ethically sourced ingredients and craftsmanship guarantee a premium and indulgent chocolate experience. 
In conclusion, elevate your gift giving with luxury chocolate gift baskets featuring unique and indulgent flavors. Check out our online luxury chocolate stores to discover the world of gourmet chocolates. Don't settle for a traditional chocolate gift basket - make a statement with our handcrafted chocolates. Visit
Cacao And Cardamom
today.
Share this