Corporate Branding, Sweetened: The Role of Custom Logo Chocolates in Marketing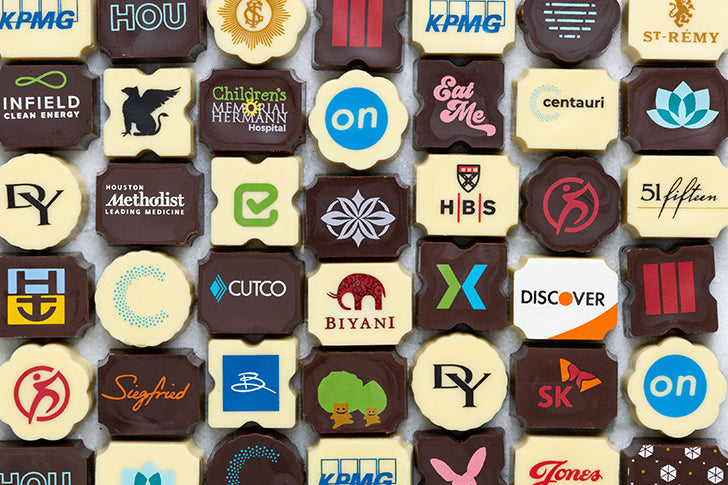 Are you looking for a unique and effective way to enhance your corporate branding? Look no further than custom logo chocolates! These delectable treats not only delight the taste buds but also serve as a powerful marketing tool.
At the heart of any successful branding effort lies a strong brand identity. Corporate branding, therefore, involves building an identity that resonates with your target audience and sets your company apart from its competitors. Key elements of corporate branding include a unique logo, messaging that communicates your company's vision and values, and consistent use of these elements across all marketing channels.
Custom logo chocolates offer a unique opportunity to incorporate your brand identity into a tangible and memorable product. From logo-embossed chocolates to fully customized gift boxes, the possibilities are endless. By distributing these chocolates at targeted events or as gifts to clients and employees, you can increase brand visibility and create a lasting emotional connection with your audience.
So what sets custom logo chocolates apart from other marketing strategies? Firstly, they offer a wide appeal. Who doesn't love chocolate? By capitalizing on this universal love for sweets, you can attract attention and engagement at trade shows or events. Secondly, personalized chocolates offer a unique and memorable experience that can enhance brand recognition and recall. Finally, research has shown that food, particularly chocolate, can create positive associations and emotional connections with brands.
Incorporating custom logo chocolates into your marketing campaigns is not only easy but also highly versatile. From trade shows and events to corporate gifting and employee engagement, there are countless opportunities to spread your brand through chocolate. For example, you can offer custom logo chocolate boxes as a holiday gift for employees or as a thank you to important clients.
To ensure your custom logo chocolates have maximum impact, it is important to carefully consider design elements such as chocolate type, packaging, and size. Balancing creativity with brand consistency is key. Cacao & Cardamom is the best place to make sweet memories with your stakeholders. Their chocolates are specially designed for corporates with a wide range of flavors and customization options.
When it comes to measuring the success of your custom logo chocolate campaigns, it is important to define key performance indicators (KPIs) such as brand recall, engagement, and sales. In addition, tracking campaign results and analyzing data will help you understand the long-term benefits and ROI of branding with chocolates.
In conclusion, custom logo chocolates offer a unique and effective way to strengthen your corporate branding efforts. By incorporating these delectable treats into your marketing strategy, you can differentiate your brand, create emotional connections with your target audience, and leave a lasting impression. For the best chocolates in the USA, try Cacao & Cardamom gourmet chocolate delivery service. With their artisan chocolate bars, gluten-free chocolates, chocolate gift baskets, and same-day delivery in Manhattan, you won't be disappointed.
Share this