Dark Chocolate and Your Mood: The Science Behind Its Happiness-Inducing Properties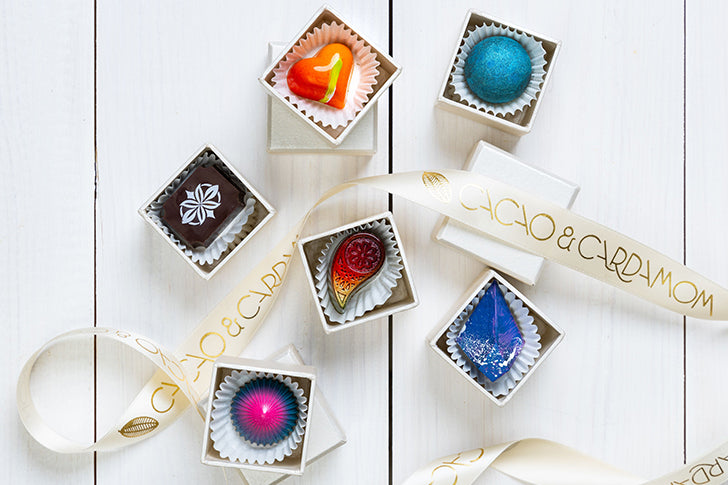 The Perfect Sweet Token of Appreciation: Dark Chocolate Gifts for Employees and Clients
As a business owner, it's essential to show appreciation to your employees and clients. And what better way to do so than with a delicious and indulgent treat? Dark chocolate is not only a tasty gift idea but also a perfect way to convey your appreciation towards the recipient. In this blog, we will explore some of the best chocolate corporate gifts and branded chocolate gift boxes that will please any recipient's taste buds.
Dark Chocolate Collection: At Cacao and Cardamom, we pride ourselves on creating the most delectable artisanal dark chocolate collection, perfect for corporate gifts. Our artisan chocolates are handmade using the highest quality ingredients, and our unique offerings will satisfy even the most discerning of palates.
Best Chocolate Corporate Gifts: Our artisan dark chocolate gift box is the perfect corporate gift for any occasion. We have curated a range of chocolate gift boxes featuring the most decadent chocolate truffles and dragees for your colleagues and clients. Our collection is sure to impress and is an excellent way to foster positive relationships with your valued associates.
Branded Chocolate Gift Boxes: At Cacao and Cardamom, we take pride in creating personalized branded chocolate gift boxes that speak to your brand's uniqueness. Our team will customize our gift boxes to include your company logo and branding, ensuring that these gifts leave a lasting impression on your clients.
Artisan Chocolate Gift Box: Our artisan chocolate gift boxes are the perfect way to delight your employees and clients. Our handcrafted chocolates are made using the finest ingredients, sourced from around the world. Our delicious and unique chocolate flavors, such as dark chocolate with nuts, will impress even the most discerning chocolate connoisseurs.
Dark Chocolate Order Online: At Cacao and Cardamom, we make getting your hands on the best artisan chocolate gift boxes incredibly easy. Simply visit our website and place your order online. Our team will ensure that your order is processed promptly and is delivered to you or your desired recipients in a timely manner.
Best Dark Chocolate with Nuts: Our range of artisan chocolates includes some of the best dark chocolate with nuts you will ever taste. From roasted pistachio to crunchy almonds, our chocolate-covered nut offerings will satisfy any chocolate lover's cravings. And with our new online ordering system, you can easily buy dark chocolate online and have them delivered to your doorstep.
Artisan Dark Chocolate: Our artisan dark chocolate offerings are unique and irresistible. We source our chocolate bit from wild cacao trees in the Amazon that naturally exudes the flavors of lemon and grapefruit, and our chocolates are crafted by hand using only the highest quality ingredients. You can trust that our artisan chocolate is the perfect gift to show your employees and clients how much you appreciate them.
Dark Chocolate Gifts: Dark chocolate is a classic gift for any occasion, and at Cacao and Cardamom, we offer the most delectable and indulgent dark chocolate gifts around. We offer a range of dark chocolate gift boxes to accommodate any budget and occasion, and our customized offerings are perfect for corporate gifting.
Dark Chocolate Buy Online: Ordering dark chocolate online has never been easier than with Cacao and Cardamom. Our website offers a simple and seamless purchasing experience, allowing you to buy artisanal dark chocolate gifts for employees and clients easily.
In conclusion, dark chocolate is a sweet and indulgent way to show appreciation to your employees and clients. With our range of artisan dark chocolate offerings, customized gifts, and easy online ordering system,
Cacao and Cardamom
makes the process of gifting delicious chocolate a breeze. Be sure to visit our website and place your order today. Your colleagues and clients are sure to appreciate the thoughtful and delectable gift of artisanal chocolate.
Share this