Deliciously Memorable: How Custom Chocolate Gifts Can Leave a Lasting Impression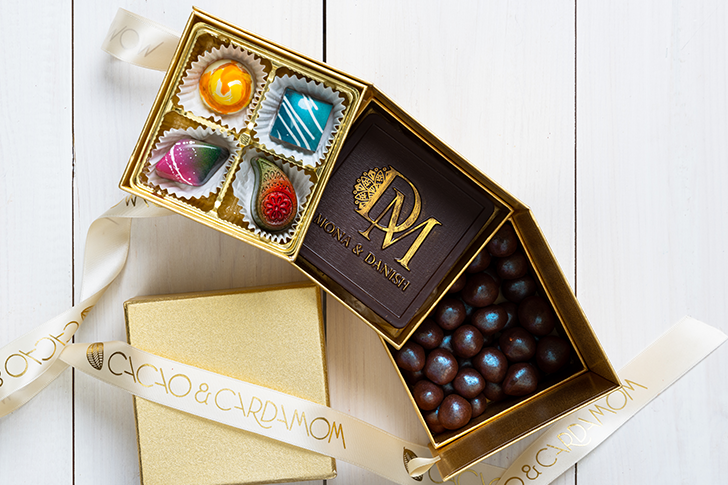 Deliciously Memorable: How Custom Chocolate Gifts Can Leave a Lasting Impression




Are you tired of sending the same old corporate gift baskets and boxes to your employees or clients? Do you want to make a lasting impression with a personalized touch? Look no further, as custom chocolate gifts from Cacao and Cardamom can help elevate your gifting game and leave a deliciously memorable impression.




Elevate Your Corporate Gifting Game with Custom Chocolate Gifts from Cacao and Cardamom

Our creative corporate chocolate gifts come in various forms - from corporate chocolate gift baskets and boxes to personalized chocolate business gifts - you can choose the perfect one to suit your needs. Our chocolates are crafted with the finest ingredients, ensuring that each bite is a heavenly experience that your recipients will savor.

What sets custom chocolate gifts apart from other gourmet sweets is the ability to personalize them to your liking. At Cacao and Cardamom, we offer a variety of customization features, including adding logos, messages, and even company branding to our chocolates, providing a unique gift that represents your brand in a deliciously memorable way.

When choosing a chocolate gift for your employees or clients, keep in mind the occasion and the recipient's preferences. If you have a large group of people to gift, a corporate chocolate gift basket or box is a perfect option as it provides an assortment of chocolates that cater to different tastes. If you are looking for a more personalized touch, then a personalized chocolate business gift can help you convey your gratitude and appreciation in a thoughtful way.

At Cacao and Cardamom, our chocolates are not just a gift, but an experience. Our chocolates are not only delicious but visually appealing, creating a sensory experience that will leave your recipients feeling impressed and appreciated. It is no wonder that custom chocolate gifts have become increasingly popular as corporate gifts for employees or clients.

Sending custom chocolate gifts for special occasions or corporate events can be a memorable way of showing appreciation and gratitude. Whether it's a thank-you gift for your employees or a recognition gift to your clients, custom chocolate gifts can help you create a lasting impression and build strong relationships.

In conclusion, if you are looking to leave a lasting impression with your corporate gifting, custom chocolate gifts are the perfect way to stand out. At Cacao and Cardamom, we can help you create a personalized, deliciously memorable gift that will be appreciated and remembered. Visit us today to explore our wide assortment of creative corporate chocolate gifts, including corporate chocolate gift baskets, corporate chocolate gift boxes, and more!
Share this