Box of Joy Coated in Chocolates and Dipped in Love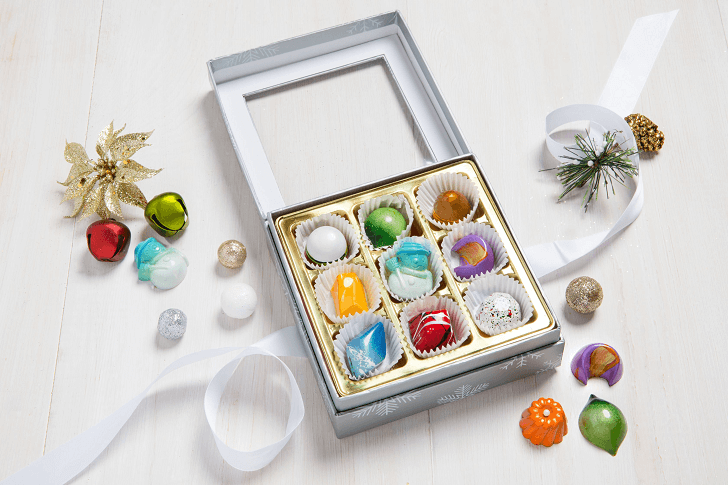 Ho. Ho. Ho. It's almost that time of the year when we pull our mittens out of the trunks and decorate our homes with fairy lights, go shopping for ginger breads and start making a list of potential gifts for our loved ones. Thanks to the tradition of gift-giving, we have an occasion to express our gratitude towards people we love, have been an important part of our life not just personally but also professionally, people who have helped us grow and glow professionally. In simple words, the tradition of gift-exchange is the best way to remind our family, friends and colleagues, how much we love and appreciate them.
Waking up every morning to the same old routine of coffee and cubicles can get a tad bit boring and if you are looking to spice things up there's no better occasion than Christmas to spruce up your mundane work routine, the tradition of secret Santa can bring a good lot of fun to the table your colleagues sit anticipating their Monday mornings. You can be the best secret Santa by lightning up their mood with a box of beautifully crafted Corporate chocolate baskets designed specially for your colleagues with chocolate bars personalized with not just exterior crafted with logo but also personalized in taste with authentic flavours and creamy texture that will delight them.
If you are planning to buy a gift for them, make it count! Choose the best corporate chocolate baskets for them and keep them wondering who is the secret Santa.
Grand dinners are one of the most common things during Christmas the tricky part is, how to melt everyone's heart after their tummies are full. Our Holiday chocolate boxes can solve your problems, so hurry up and book your box of joy coated in chocolate and dipped in love.
Share this