Thank Your Employees With Custom Chocolate Gift | Custom made Chocolate Gifts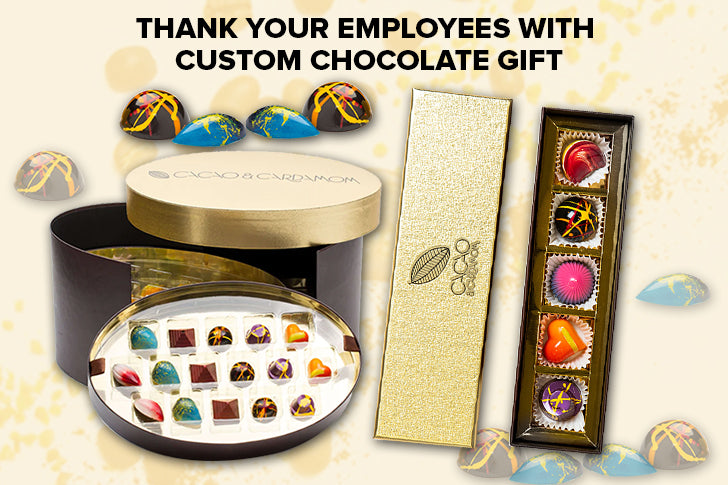 We understand how important it is to show your appreciation for the people who have made a difference in your life. That's why we offer custom-made chocolate gift boxes, filled with delicious treats that are sure to please. We can even include your company logo on the chocolates, making them a truly unique and memorable gift. Whether you're looking for holiday gifts, thank-you gifts, or just a special way to show your appreciation, custom company gifts are the perfect solution. 
As the boss, you want to do everything possible to keep employees happy. Not only so they stick around but because the employees are usually the backbone of any successful business. A custom made chocolate gift is a great way to show your employees how much you appreciate all that they do for you and your company. These gifts can be given for a job well done, as a holiday bonus, or simply to say "thank you." Chocolate gifts are always appreciated and will be sure to make your employees feel valued. So, next time you are looking for a way to show your employees appreciation, consider custom made chocolate gifts. They are sure to be appreciated and will help to show your employees how much you value their hard work and dedication.
There's nothing quite like custom made chocolate gifts to show your employees how much you appreciate them. Our Thank You Custom made chocolate Bars are made from the finest dark chocolate, milk &  and can be custom engraved with your company logo or a unique thank you message. Your employees will love working their way through these delicious bars at their leisure!
Contact Cacao & Cardamom today to learn more about our custom chocolate gift boxes. Thank you for choosing Custom Company Gifts!
Share this