Handmade Chocolatiers are scaling up the expectations as always. Latest offering: Edible Chocolate Shoes and Handbags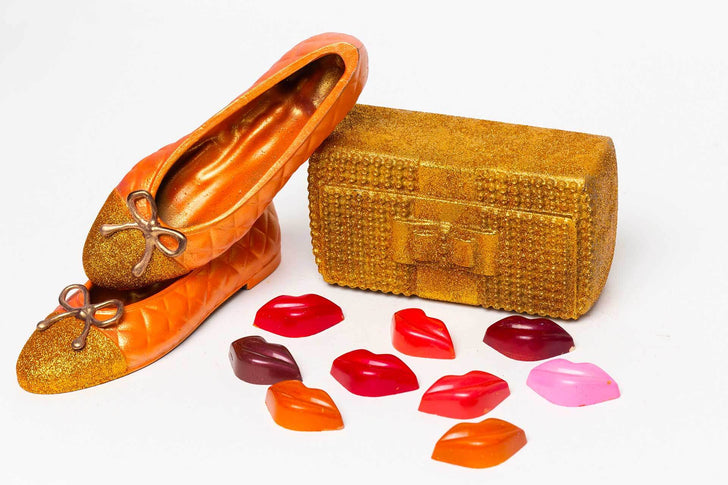 There is something so very real, even, and authentic about the selection of handmade and hand crafted chocolates that they make us kind of ignore the packaged bars that are easily available in the market and in grocery stores. And handmade chocolatiers and boutiques are also leaving no stone unturned in scaling up the sweet and savory expectations of chocolate lovers and fanatics all over the globe. Right from the unique, myriad, and outlandish flavors to the high levels of customization, they are always up to something or the other on their platter satiating the sweet tooth with their offerings. And when we come to talk about the levels of customization, apart from the flavors and ingredients, they come up with the shapes, molds, and sizes of the confections as per our needs and requirements. And the latest on the block is
Edible Glitter Shoes
, bags, and all the other retail elements that have been satiating our fashion soul to the core. Imagine our retail therapy getting intermingled with the sweet savories, what more can we ask for? 
And as we are discussing about the chocolate high heels and bags, handmade chocolatier boutiques offer the same in the varied shades of colors, shimmers, and types of heels such as stilettos, sneakers, and more. Bags can be customized as per the brands you love and use it on a frequent basis with the colors and shapes as you fancy. 
We at
Cacao and Cardamom by Annie Rupani
are the most sought after
Edible Shoes Company in the city of Houston and all over the USA
. We are on a constant drive to innovate with our confections and scale up your sweet and savory expectations always.
Share this