Delight Your Colleagues with Delicious Corporate Chocolate Gift baskets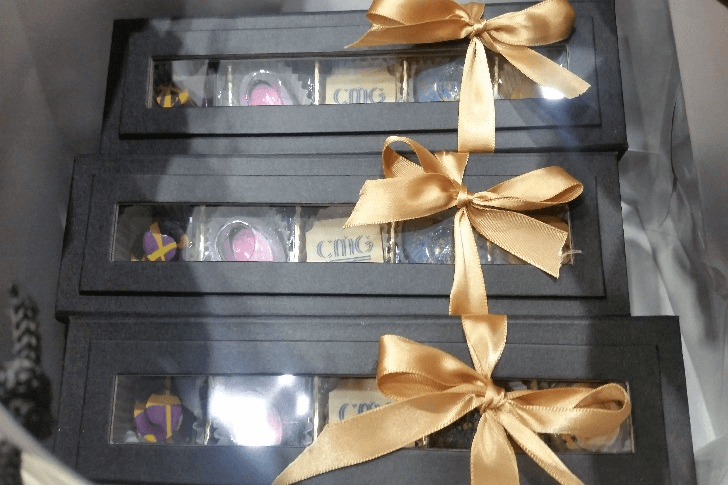 This holiday season leave no stones upturned to surprise your employees and clients, make sure your gift amuses them, after all it's a blessing to have co-workers who help you survive the week. So this year surprise your helpful bunnies with the best office secret Santa gifts. Express your gratitude towards them by showering them with unimaginably wonderful flavours of chocolates with the most unique and beautiful packaging. To honour this special bond, you might surprise your employees or colleagues with gifts from time to time and there no occasion like Christmas to tell people around you, how much you appreciate their existence in your life and your company.

So, surprise them with an exquisite basket of Corporate chocolate this season.

The one tradition that excites all adults and kids during Christmas is the good old game of secret Santa. As the name suggests it's a gift giving tradition followed across the globe, but the person who will be giving you the gift remains a mystery just like 'Santa', this game helps us keep the mystery of the Christmas season alive. Nothing in this world can stop people from celebrating Christmas and filling joy in lives of their loved ones, so what's stopping you from doing that? Even if you're attendees, employees or colleagues live miles away and you can't reach them at same day, we are here to help you reach them, all you have to do is pick your favourite Holiday chocolate boxes online, and voila! The job's done. We will make sure that their gifts are delivered with love and care. Isn't it easy? You can make your staff happy by just one click of thumb.

So put your skates on and book your order now! This season be the best secret Santa and delight your colleagues with these delicious personalized corporate chocolate baskets.
Share this