Choosing the Right Gourmet Chocolate Gifts: A blog post about Personalized Diwali Chocolate Gift Box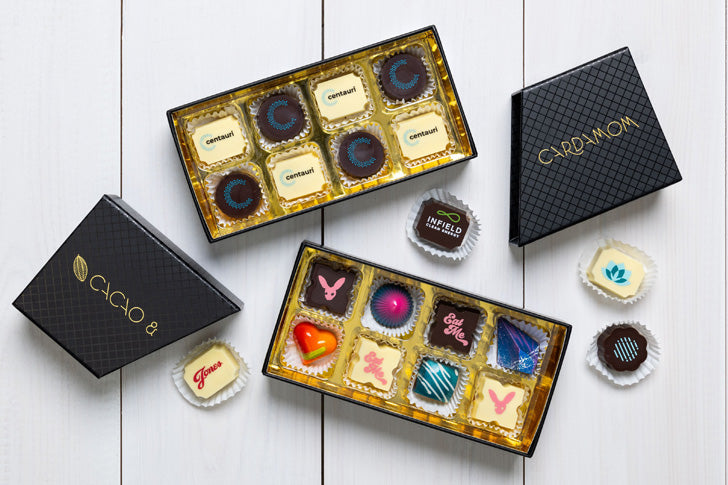 Diwali is right around the corner, and that means it's time to start thinking about what kind of Diwali chocolate gifts you want to give to your friends, business associates, clients and employees and family members. If you're looking for something truly unique and special, consider a personalized Diwali chocolate gift box from the best chocolates maker in the United States i.e. Cacao and Cardamom Chocolatier from Houston, TX. Our boxes are filled with handcrafted Diwali chocolates that are made from only the finest ingredients. Each chocolate is designed to reflect the light of the holiday season, making them a truly stunning and memorable gift. For an even more luxurious experience, consider a gourmet chocolate Diwali box. These boxes are filled with premium chocolates that have been carefully selected to create a uniquely decadent and delicious experience.
Chocolate is a food that has been enjoyed by people all over the world for centuries. And what's not to love? Chocolate is rich, creamy, and satisfying. While many people enjoy eating chocolate, few know the effort that goes into making it. It takes around 400 Cocoa beans to make a single pound of chocolate, and the process of turning those beans into delicious chocolate can be quite laborious. However, the end result is worth it, and that's why chocolate makes such a wonderful gift. If you're looking for a personalized Diwali gift, consider giving a box of handcrafted Diwali chocolates with a personalized company logo. Although our gourmet chocolate Diwali boxes are made with love and care, they're sure to bring a smile to your loved ones' face. We also offer a variety of different customization options so that you can create a gift box that's perfect for your loved one. Chocolate is an aphrodisiac food, and a personalized Diwali chocolate gift box will definitely help you to share your feelings for someone special.
For businesses, Diwali presents an opportunity to build relationships with clients, employees and partners. And what better way to show your Diwali spirit than with handcrafted Corporate Diwali chocolates with your company logo embossed on it? There are many reasons why chocolate makes an ideal Diwali gift. No matter whom you're giving a gift to, odds are they'll appreciate a delicious bar of chocolate. Chocolate is associated with feelings of happiness and well-being, making it the perfect way to show your Diwali best wishes. Corporate Chocolate gifts can be easily tailored to fit any budget. Whether you're looking for an extravagant gift or a simple gesture of Diwali goodwill, there's a chocolate gift basket in Cacao and cardamom that's perfect for you.
So if you're looking for a way to show your loved one how much you care, give them the gift of chocolate this Diwali from Cacao and Cardamom.
Share this