Trying to find the best Birthday Gift for office friends? Unique Corporate gift baskets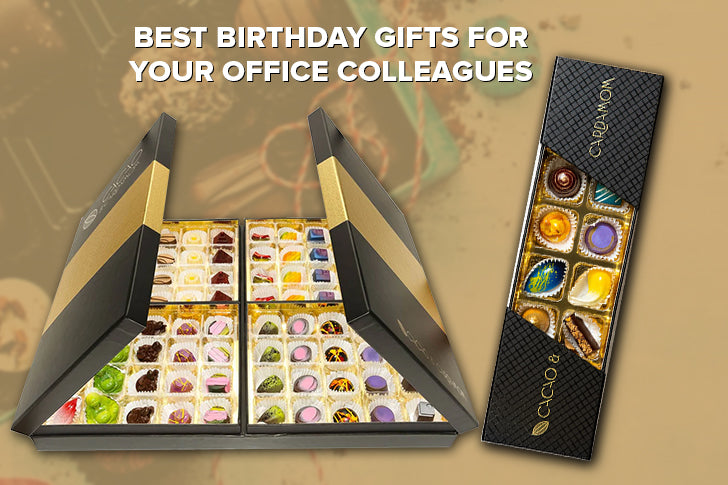 Corporate holiday gifts for Office Friends - 
Trying to find the best Birthday Gift for office friends? Look no further than the corporate holiday gift guide! This guide has everything you need to make your office friends happy. And if you are looking for something truly unique, consider custom corporate holiday gifts. These gifts are sure to impress and will show your office friends how much you care about them. 
Here are the best chocolate gifts.
Three Tier Dozen Signature Collection - Cacao and cardamom is excited to introduce our latest creation, the Three Tier Dozen Signature Collection. This gorgeous set features an assortment of our most popular chocolates, including Dark Chocolate Orange Peel, Rosemary Caramel, and Sea Salt Dark Chocolate. Each truffle is handcrafted with only the finest cacao, and filled with a creamy ganache made from fresh cream and butter. The result is a truly luxurious experience that is perfect for any chocolate lover. Place Order now and enjoy…… 
The perfect selection, 16 pieces - At cacao and cardamom, we have a passion for chocolate. We believe that chocolate should be enjoyed in all its forms, from the rich and indulgent to the light and refreshing. That's why we've created The perfect selection, 16 pieces of our finest chocolate for you to enjoy. Whether you're looking for a gift for someone special or just want to treat yourself, the perfect selection is the perfect choice. cacao and cardamom sources the finest cacao beans from around the world to create unique and delicious chocolate experiences. Our chocolates are handcrafted in small batches using traditional methods, ensuring that each piece is of the highest quality. We hope you enjoy exploring the perfect selection, and we look forward to bringing you new and exciting chocolate creations in the future. 
The Jewelry Box - The Jewelry Box 24 piecec is a beautiful, handmade gourmet gourmet chocolate piece that cacao and cardamom makes with the utmost precision and care.
Share this