TOP 3 REASONS WHY HANDMADE EXOTIC CHOCOLATE IS THE BEST BUY...!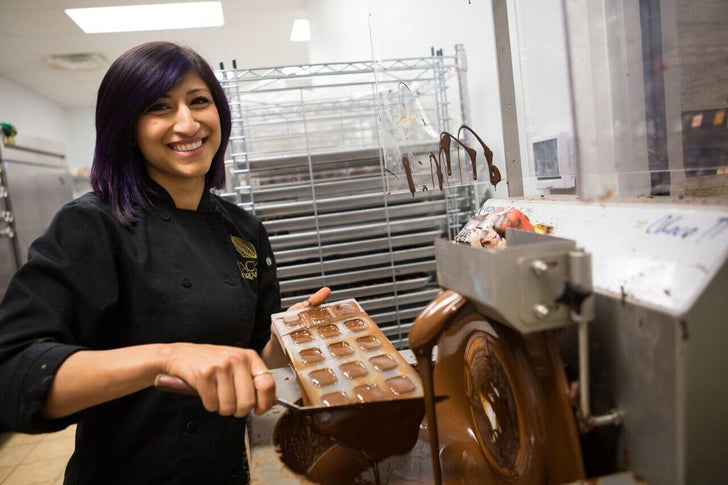 We all love chocolates, don't we? Be it any special occasion of life or the sweet tooth cravings that can occur anytime of the day or during the midnight whilst binge watching on our favourite series. But the perils of satiating our sweet tooth keeps on scaring us with the various myths involved that keep floating on the social media blogs and internet. They do hold some truth behind them as the packaged chocolate bars that we buy from the nearby grocery stores contain a lot of preservatives that can be really harmful to our health and this keeps us pondering over on what is the next best alternative that is luscious as well as healthy.
The answer is the varied selection of Exotic Chocolate in Houston that is manufactured on daily basis and is loaded with nutrition levels plus we can indulge in it guilt free by none other than Cacao & Cardamom in the city of Houston. This exclusive chocolate boutique is run by Annie Rupani and she specializes in handmade and artisan chocolates that are totally healthy in nature and the brand is an ultimate choice of every person having a sweet tooth.

Here is the list of Top 3 reasons why handmade chocolates are the best buy:
No Preservatives: It is always the thumb rule of the genuine chocolatiers to manufacture their varied series of chocolates on the daily basis using the fresh ingredients and the processes that are hygienic and completely sanitized. The packages come with the disclaimer that the products will last only up to 4 weeks depending on the weather conditions and it is best to consume the chocolates within a day or two to enjoy their scrumptious nature and freshness.

And by the way, who can resist eating an exotic Handmade Chocolate up to four long weeks!

Good Health: Apart from being natural energy boosters and mood lifters, handmade chocolates are quite beneficial for our vision, heart, skin, and memory being loaded with rich antioxidants and vital minerals that are good for our health.

Wide Variety: It is always 'More the Merrier', so why not in the case of chocolates. Handmade Chocolates come in a wide variety of bars, nibs, truffles, and more confected using nuts, fresh fruits, and other healthy ingredients giving us sumptuous options to select from.

There are more rational reasons of the list, but the top 3 are always enough to gratify us with the exotica of the Handmade Chocolates. 
Share this