Celebrate Eid in Style with Luxurious Chocolate Gift Baskets - Cacao and Cardamom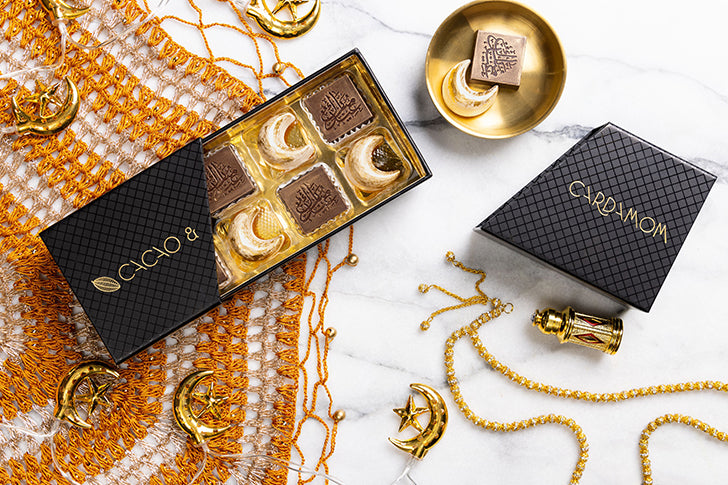 Eid al-Fitr is one of the most important Islamic festivals that marks the end of Ramadan, the month-long period of fasting and spiritual reflection. It is a time for celebration, gathering with loved ones, and exchanging gifts. And what better way to elevate your festivities than with luxurious chocolate gift baskets from Cacao and Cardamom?
At Cacao and Cardamom, we understand the importance of celebrating Eid in style, which is why we have curated the finest Ramadan personalized chocolates and unique Ramadan Eid gift baskets to suit your gifting needs. Our exquisite Ramadan chocolate gifts and ramadan chocolate gift baskets are perfect for sharing and indulging with family and friends.
Our Ramadan personalized chocolates are expertly crafted by our team of chocolatiers to embody the spirit of the festival. From intricately designed chocolate dates to stunning chocolate lanterns, our Ramadan chocolate gifts are the perfect way to express your love and appreciation for your loved ones during this special time.
For those looking for unique Ramadan Eid gift baskets, we have a range of options to choose from. Our luxurious chocolate gift baskets are filled with an assortment of our finest chocolate creations, including chocolate truffles, chocolate bars, and chocolate-covered nuts and fruits. These decadent baskets are sure to impress even the most discerning chocolate lover and make for a truly unforgettable gift.
At Cacao and Cardamom, we are committed to using only the finest ingredients and ethically sourced cocoa in our chocolate creations. Our chocolates are handcrafted in small batches to ensure maximum freshness and flavor. We take pride in delivering exceptional quality and unparalleled taste to our customers, and our Ramadan chocolate gifts and ramadan chocolate gift baskets are no exception.
So this Eid al-Fitr, make your celebrations extra special with
luxurious chocolate gift baskets
from
Cacao and Cardamom
. Order now and experience the ultimate in chocolate indulgence!
Share this