4 Creative New Year's Chocolate Gifts That Will Impress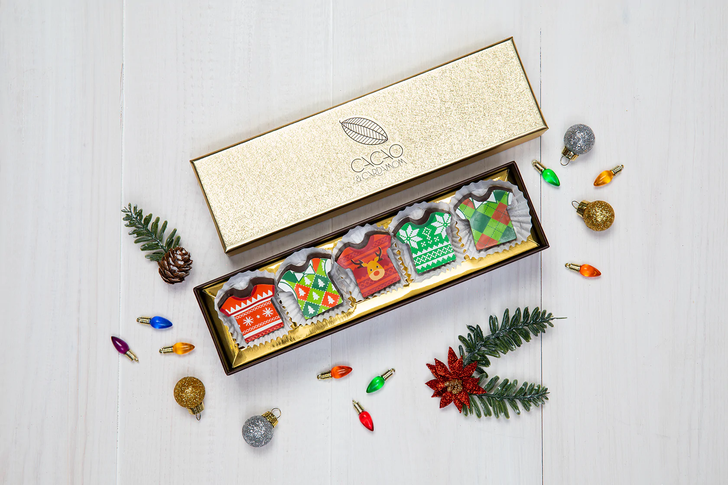 As the start of a new year approaches, why not give your loved ones something unique and special to commemorate it? With some creative thinking, you can make your New Year's chocolate gifts something that will really impress. For dark chocolate lovers, a dark chocolate gift basket filled with the best dark chocolates and truffles is a great way to celebrate. Alternatively, for those who like something more extravagant there is nothing quite like personalized or customized dark-chocolate bar molds that can be embossed with initials, dates or even drawn designs of your choice. You could even take things one step further and pair the chocolate gifts with an additional token item such as a lampstand or fragrance set. Whatever creative ideas you have in mind, chocolate gifts are the perfect way to start 2023 with style.
Holiday Sweater Peppermints - 
Make someone's holiday season more enjoyable with dark chocolate gift boxes filled with Holiday Sweater Peppermints. These cute chocolates take on the shape of adorable sweaters and each contain a velvety, smooth vegan peppermint filling. Not only are they delectable, but they offer guilt-free indulgence for those who want to savor the moment without too much sugar or dairy. Perfect for an end-of-year party or given as a token of appreciation, Holiday Sweater Peppermints from Cacao and Cardamom make sure you make your mark this holiday season!
Health Freak Artisan Bar - 
The Health Freak Artisan Bar is an innovative wedding favor for health-conscious couples. Our handcrafted wedding chocolate bar is made with 85% Colombian Chocolate and includes a range of antioxidants, omega-3's, and nutritious ingredients like Goji Berries, Toasted Coconut, Flax Seeds, Hemp Seeds, and Chia Seeds that even first-time health food eaters will enjoy. Plus, we've made sure that this wedding favor product is dairy free and gluten free so it can be enjoyed by guests without dietary restrictions. It's time to show your wedding guests that you care not just about them but their overall well being with the Health Freak Artisan Bar!
Dark Chocolate Lover's Gift Basket -
Surprise dark chocolate lovers this New Year with a Dark Chocolate Lover's Gift Basket. This luxurious basket contains dark chocolate specialties like a 16 piece dark chocolate box, dark chocolate almonds and dark chocolate & orange artisan bar along with more uniquely premium treats like 72% Venezuela Mendiants and hazelnut spread. The dark side of cocoa never looked so good - perfect for that dark chocolate lover in your life.
Vegan Chocolate Lover's Gift Bundle -
If you're looking for luxury chocolate gifts to impress this New Year's, look no further than Vegan Chocolate Lover's Gift Bundle. This curated selection contains a variety of vegan chocolates that are sure to tantalize the taste buds. The bundle includes a 16-piece vegan collection box, along with artisan bars and unusual médiant creations like strawberry pop rocks and passionfruit Tajin. In this delicious gift bundle, you can rest assured that your recipient will be getting some of the tastiest vegan treats available!
Share this