Who's the best chocolate delivery online store in Houston, TX USA?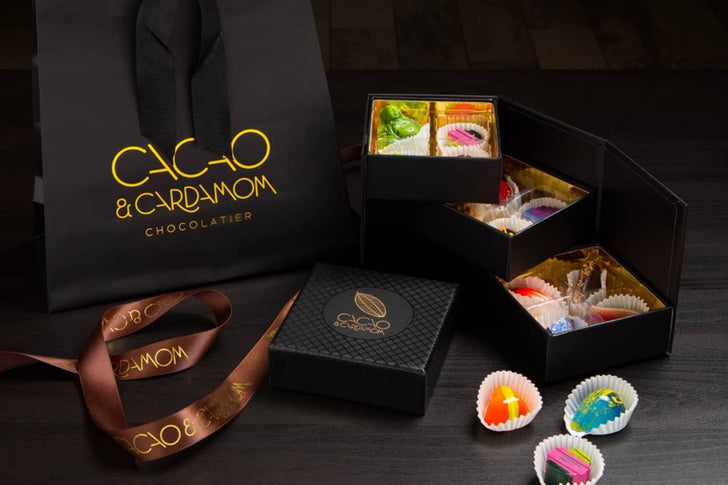 Chocolates are the best sweet confectionaries around the world. And if you are tired of the same old mass-manufactured chocolates, you are searching for an online store of chocolates which creates some of the finest handcrafted chocolates in the town. Why are people turning their heads to find handcrafted chocolates online over mass-produced chocolates to indulge their taste buds? handcrafted chocolatiers in Houston, TX, USA come up with some unique flavors combined with virgin sourced cocoa beans to create handmade mini-masterpieces of chocolates and sell it online with Local Delivery as well as chocolates shipping to all over the United States to blow your taste buds off with tropical and spicy nodes using fruit and spices. For those seeking something new to taste, fine handmade chocolates are the best way to go. But, where can you find Next Day Chocolate Delivery in The USA in times of a pandemic?

Handcrafted chocolatiers like Cacao & Cardamom also keep in mind the uber packaging for their delicate creations. They are a good option for gifting to your loved ones. Looking out for Artisanal Best Chocolate Delivery at your doorstep, Cacao and Cardamom is the Best Next Day Chocolate Delivery option for handcrafted chocolates.

Cacao and Cardamom is the brainchild of Annie Rupani, whose upbringing has been brought up with many spices and cocoa aroma around and a keen eye for artisanal chocolates. Now Cacao and Cardamom brings you the best artisanal chocolates to your doorstep.

With Cacao and Cardamom's online chocolate store and many unique hand-selected tasting boxes and gift boxes, the online chocolate store in USA boasts some unique and bold flavors of chocolates combined with Indian spices and tropical fruits such as Strawberry Szechuan, Garam Masala Pistachio, Lavender, Black Sesame Ginger, Five Spice Praline, and much more innovative selections. They are doing Chocolate Delivery across the USA.

If you are craving for your tasting box from the Cacao and Cardamom store, it will make you somewhat satisfied with one-day delivery and Next Day Chocolate Delivery.

 
Share this