Sweet Selections: The Top 10 Chocolates You Can Find in the USA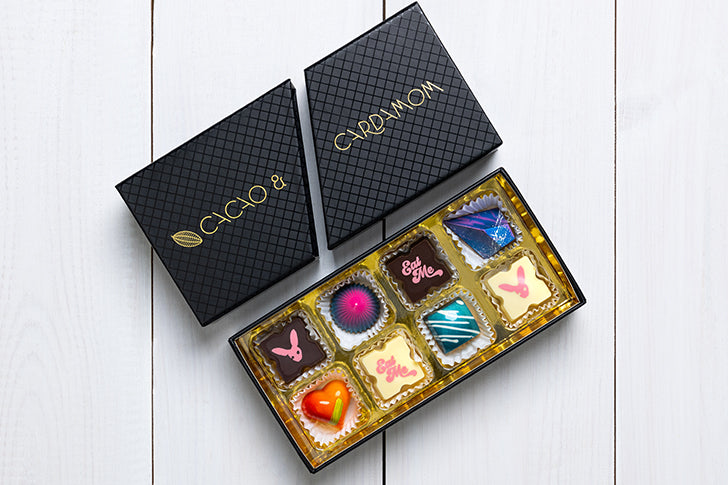 Fall Chocolate Gift Boxes: 10 Sweet Selections to Satisfy Your Sweet Tooth

Are you a chocolate lover? Do you find yourself constantly searching for the best chocolates to satisfy your sweet tooth? Look no further than the USA, where the love for chocolates is unmatched. With a diverse selection of chocolates varying in taste, flavor profiles, and ingredients, the options are endless. Here are the top 10 chocolates you can find in the USA.

1. VEGAN TRUFFLE COLLECTION -
Indulge in the velvety smoothness of our 16-piece artisan vegan truffles, made without dairy and featuring single-origin chocolate infused with pure raw organic Thai Coconut Oil. These truffles are both delicious and ethical.

2. Dia De Los Muertos Sugar Skulls -
This collection features premium house-made pralines including Cashew Praline, Pistachio Praline, Pecan Praline, Macadamia Praline, and Hazelnut Praline. These sugar skulls are a unique and flavorful gift for any chocolate lover.
3. Death by Chocolate Coffin Box, 10 piece -
Perfect for all occasions, this 10-piece deluxe chocolate gift box features exquisite taste combined with elegant aesthetics. This chocolate gift box is a delectable choice that will never disappoint.
4. Strawberry Serrano Caramel Bar - Indulge in the richness of dark chocolate with a tantalizing caramel infused with the spicy kick of serrano peppers and sweet strawberries. This bar is perfect for those with an adventurous palate and a love for the unexpected.
5. The Little Black Box, Classic -
Savor the nostalgia of timeless comfort with our 8-piece box of artisan chocolates inspired by our Classic Comfort flavors. Indulge in each delectable bite as you rediscover the heartwarming tastes that evoke cherished memories.
6. SIGNATURE ARTISAN BAR GIFT SET -
This gift set features our collection of beautiful and delicious Signature Artisan Bars, including Health Freak Bar, Coffee & Cardamom Bar, Texas Pecan Bar, and Ruby Raspberry Bar. These bars will put any other chocolate bar you've had to shame!
7. VEGAN CHOCOLATE LOVER'S GIFT BUNDLE -
The Vegan Chocolate Lover's Gift Bundle includes a 16-piece box of vegan chocolates and gourmet bars featuring Dark Chocolate & Orange Artisan Bar, Coffee & Cardamom Artisan Bar, Strawberry Pop-Rocks Mendiants, and Passionfruit Tajin Mendiants.
8. Vegan Collection, 16 piece box -
Experience the delectable flavors of vegan single-origin truffles made with pure raw organic Thai Coconut Oil. These truffles are crafted to satisfy even the most discerning palates.
9. DELUXE CHOCOLATE GIFT BOX -
Discover the finest chocolate gift with our 48-piece artisan chocolate box, perfect for all occasions. Our Deluxe Gift Box blends exquisite taste with elegant aesthetics, making it an unforgettable present for chocolate enthusiasts.
10. COFFEE & CARDAMOM ARTISAN BAR -
Indulge in the handcrafted Coffee & Cardamom Artisan Bar made with 66% Caraibe Dark Chocolate infused with freeze-dried espresso and freshly ground green cardamom. This bar is perfect for coffee lovers and those with a taste for unique flavor profiles.
Explore the sweet selections of fall chocolate gift boxes, fall chocolates collection, and chocolate gifts corporate. Indulge in the exquisite taste of the top 10 chocolates you can find in the USA. Satisfaction guaranteed.
Visit the Cacao and Cardamom website today to discover more sweet selections and indulge in the exquisite taste of artisan chocolates.
Share this