Unique and Delicious Easter Chocolate Gift to Sweeten Up Your Celebrations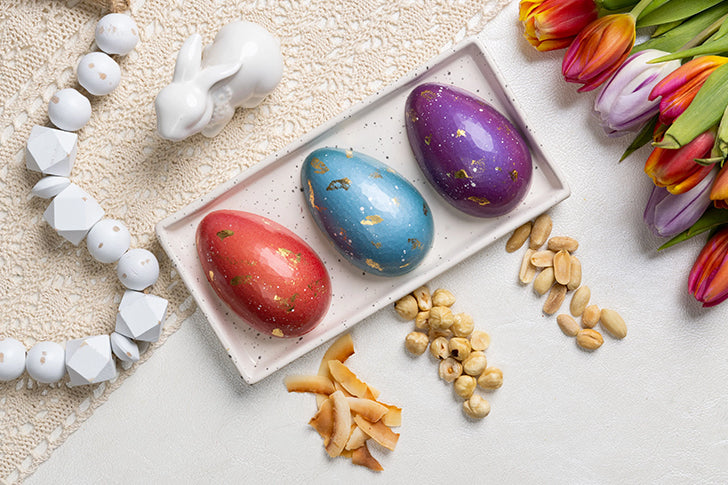 Easter Delights: Indulge Unique and Delicious Chocolate Gifts
Welcome to Cacao and Cardamom! If you're looking for a unique Easter treat, then you'll love our Easter chocolate collection. Our artisan chocolates are made with the highest quality ingredients and handcrafted with passion and attention to detail. They're the perfect way to celebrate Easter with your loved ones!
This year, we've created an extra special Easter collection featuring decadent dark chocolate bunnies, gourmet Easter eggs filled with white chocolate truffles, personalized artisan chocolate eggs painted with edible gold luster dust, and more. Our delicious chocolates are sure to sweeten up any celebrations.
Our dark chocolate Easter bunnies are hand-molded in small batches using Strawberry Malt Balls. They're perfect for gifting or enjoying as a special treat. For those who prefer something sweeter, our gourmet Easter eggs feature a delightful white chocolate filling that melts in your mouth. Our artisan chocolates are made by expert artisans who take pride in every piece they create. Each egg is carefully decorated with edible gold luster dust for an added touch of glamor.
At Cacao and Cardamom, we believe that each moment should be celebrated in style – especially on such a special occasion like Easter. That's why we always strive to make our chocolates extra special and full of flavor. Each piece is crafted from pure cocoa beans sourced from the best farms around the world and blended together with care to ensure that it has an indulgent taste that can't be found anywhere else. From creamy milk chocolates infused with cardamom, cinnamon, black pepper or rose petals, to rich dark chocolates flavored with orange blossom or raspberry – our carefully curated flavors will delight your taste buds!
Triple Easter Egg Candy Bars
If you're looking for a unique and indulgent Easter treat, look no further: these luxurious hand-painted easter eggs filled with candy bar fillings are sure to satisfy your sweet tooth. With three delightful options - Coconut Fluff, Hazelnut Speculoos, and Peanut Butter Caramel - you can try all of them and find your favorite flavor. These Easter egg candy bars make the perfect treat to celebrate the coming of spring, delighting taste buds along the way. Try one today and experience the joy that comes with each bite!
So if you want to sweeten up your celebrations this year then don't forget about Cacao and Cardamom! Our unique selection of artisan chocolates makes for the perfect gift this Easter – whether it be for yourself or someone special in your life! Visit us today and choose from our wide range of delicious dark chocolate bunnies, gourmet easter candy eggs filled with white filling, delicate handmade artisan chocolate eggs painted with edible gold luster dust or one of many other luxurious options.
Share this