Celebrating Life's Sweet Moments: Sharing Dark Chocolate Gift Baskets with Friends and Family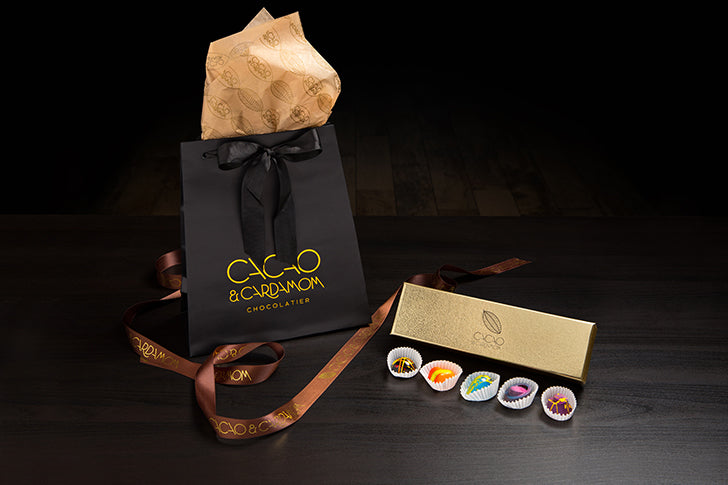 Celebrating Life's Sweet Moments: Sharing Dark Chocolate Gift Baskets with Friends and Family

Life is full of precious moments worth savoring and celebrating. Be it birthdays, holidays, or simply an opportunity to show appreciation to someone special, chocolate has always been a delightful gift. And when it comes to choosing the perfect chocolate gift, dark chocolate has become an increasingly popular option for its unparalleled taste and health benefits.
Dark chocolate is rich in antioxidants and flavonoids that may help reduce inflammation, improve brain function, and lower the risk of heart disease. It's no wonder that the demand for dark chocolate has skyrocketed in recent years, making it a great choice for anyone looking to show their loved ones that they care about their health and wellbeing.
At Cacao and Cardamom, we specialize in creating handmade chocolates with unique flavors and premium ingredients sourced from ethical and sustainable suppliers. Our artisan chocolates are perfect for gifting and can be customized to fit any occasion or preference.
Some of our most popular options include our dark chocolate collection, gourmet chocolate bars, and chocolate gift baskets. Our Vegan Truffle Collection features 16 pieces of chocolate made with coconut oil and coconut milk, making it a great option for anyone who follows a vegan or dairy-free diet.
For those who prefer a more classic approach, our Jewelry Box features 24 pieces of our best-selling flavors, such as Cardamom Rose and Chamomile Vanilla. The sleek black gift box makes it a perfect present for any occasion, from birthdays to dinner parties.
In addition to our pre-made options, we also offer custom corporate chocolate logo gifts that can be personalized with your brand's logo or message. Our chocolates are great for building relationships with clients and expressing your gratitude to your team.
If you're looking to build your own chocolate box, we also offer a variety of flavors and sizes to fit your preferences. Our chocolates are made fresh and can be delivered straight to your doorstep, making it easy to share the joy with your loved ones no matter where they are.
At Cacao and Cardamom, we understand the importance of personalization and attention to detail when it comes to gift-giving. That's why we offer a range of chocolate-themed gifts and accessories, such as our small jewelry box or box for jewelry, that can add a special touch to your gift.
In addition, we offer gluten-free chocolates to accommodate anyone with dietary restrictions. Our skilled chocolatiers carefully selected the ingredients we use and ensure that our chocolates are made in a gluten-free environment.
Whether you're looking for boxed chocolate gifts or chocolate gift baskets, we have a solution for every need. With our premium handmade chocolates and customizable options, we are committed to helping you celebrate life's sweet moments with your friends and family.
In conclusion, nothing brings us closer to our loved ones than sharing life's sweet moments with them. With Cacao and Cardamom, you can create lasting memories that will be cherished for years to come. Visit us today and discover the best chocolates in the USA.
Share this