Why Cacao and Cardamom is the best place to get personalized chocolate for Christmas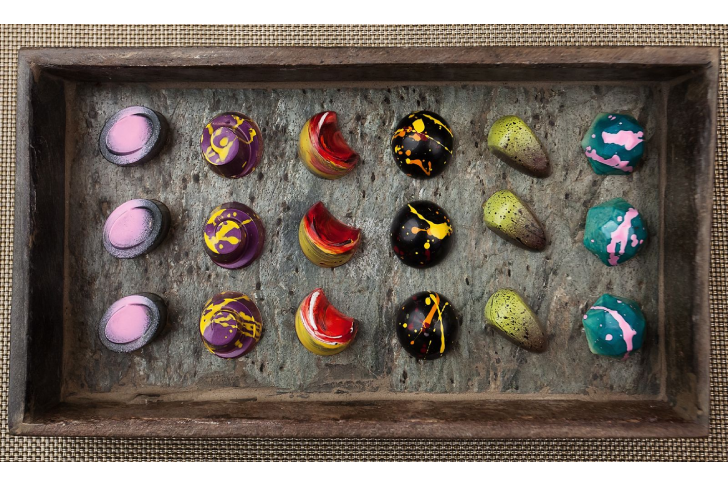 If you're looking for holiday chocolate gifts like no other, look no further than Cacao and Cardamom. We artisan chocolatiers use fresh and natural ingredients to create customized bars that are guaranteed to be the hit of any holiday gathering. Their world-famous flavors are crafted by Founder Annie Rupani, a professionally trained Pastry Chef Instructor who loves crafting beautiful and delicious works of art. With sophisticated chocolate flavors ranging from classic comforts to Holidays flavors, Cacao and Cardamom offers something for everyone and is sure to bring holiday cheer this season!
Two Tier Holiday Box, 24 Piece -
This corporate chocolate gift is perfect for the holiday season. Our 24-piece Two Tier Gold Gift Box is filled with an exquisite assortment of indulgent gourmet chocolates: bon-bons, Christmas flavors from around the world, and unique seasonal treats like Peppermint Oreo and Advocaat, a traditional Dutch alcoholic beverage made from eggs, sugar and brandy. An elegant gift that will bring joy to loved ones and colleagues alike. Spread cheer this season with a corporate chocolate gift of our Two Tiered Gold Holiday Gift Box.
Smash Ornament -
If you are looking for gourmet chocolate gift baskets to thank a colleague or celebrate a special event, the Smash Ornament is an excellent choice! This delightful two-in-one surprise contains dark chocolate in the form of an ornament that can be used to make hot chocolate and is also filled with handcrafted gourmet Peppermint Bark. Enjoy it immediately as a delectable snack or use it as part of an unforgettable gourmet experience. Either way, it's sure to bring lots of joy!
Gianduja Hot Chocolate Stick -
Our Gianduja Hot Chocolate Stick is the perfect christmas chocolate gift! Give your loved ones the indulgence they deserve with a piece of smooth and creamy hazelnut dark chocolate. It's easy to use, simply insert into hot milk, water or coffee and stir until melted. Serving it on a wooden spoon makes for an extra special touch. Get ready to prepare your next mug of high-quality hot chocolate at home -with no mess, no hassle!
Order your personalized chocolates today!
Share this